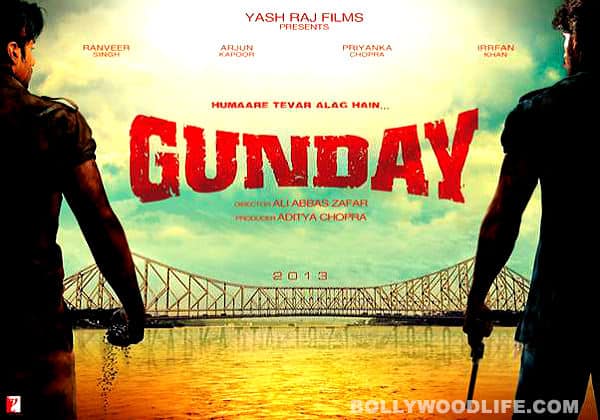 The poster of Yash Raj's crime flick is out, as the stars begin their shooting in Mumbai
The first look of the much awaited Arjun Kapoor – Ranveer Singh starrer Gunday is out. The teaser poster shows Arjun and Ranveer, dressed as two small-time thieves Bikram and Bala, looking at the sunrise across Howrah bridge. Although the actors' look is not quite clear, one can make out that while Arjun sports a bandana as Bikram, Ranveer as Bala has facial fuzz a la Ram Leela. Both the actors look like hardcore goons in the poster, with a burning ambition to make it big. Starring opposite the two violent lads is Priyanka Chopra. The ambitious project, set in Kolkata (then Calcutta), is a period film, that dwells on the mafia issue faced by the city in the 70s.
So BollywoodLifers, tell us what you feel about the poster. We will get you lots more in the coming days on the exciting crime flick!