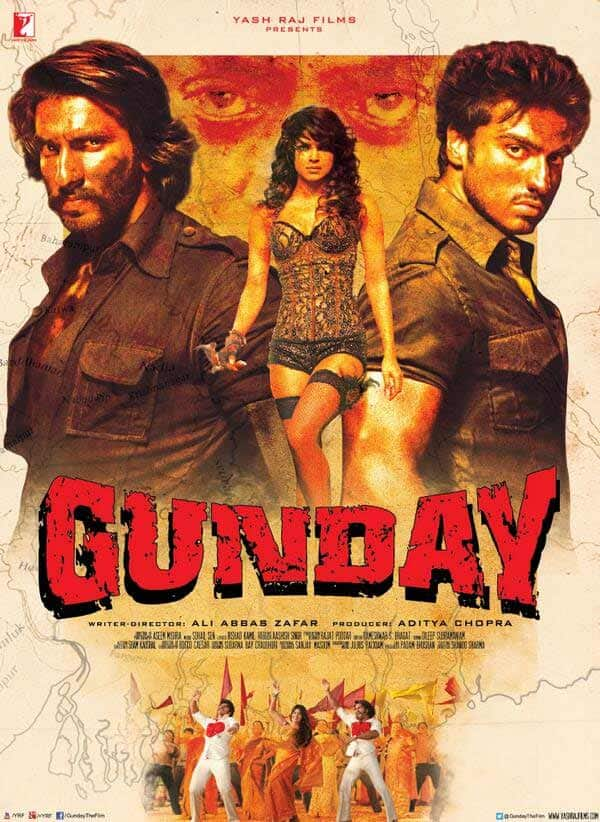 This Valentine's it's time to celebrate friendship and not just love. In Gunday, we get to see a special bond between Ranveer and Arjun. But we aren't saying that there's no love
Ranveer Singh and Arjun Kapoor's much awaited Gunday has hit the theatres and we must say, these boys know how to entertain. It's said that behind every successful man, there is a woman. But this saying does not hold true for Gunday, it's the boys who stand solid behind this entertaining film. To know what we mean, watch the film. Wink, wink! These Gunday guys need no lady or romance to seek your attention; their bromance is more than enough. Of course, Priyanka Chopra has a substantial role in Gunday, but it's the boys who win our heart.
While Arjun Kapoor plays the hot-headed Bala, Mr Singh plays Bikram, his understanding better half. Right at the start of the film, the younger version of this duo flee Bangladesh 'coz the angry young lad Bala commits a heinous crime. They arrive in Kolkata and work at a restaurant for living. But not for long, they are kicked out by their owner. With a solid lath on their paapi paith Bikram comes up with a master business plan – looting trains that carry coal and selling it cheaper. Enter the grown up Bikram and Bala in true Bollywood ishtyle! Boy, what an entry it is! The tall dark n' handsome Bikram and Bala and their brawny bodies will ddefinitely make you drool!
Apart from the hot looking heroes, there are some dhaasu dialogues that make this movie an interesting watch. The notorious and loving duo is always up for challenges. And that's where you hear the true filmi lines being mouthed, "Agar jigar ke jagah jigar hain aur jigar mein dum hain, toh rok le aake." It's delivery of these lines by the actors that make it truly watchable. Ranveer aka Bikram will make you go crazy with his expressions, especially when he says this – "Angootha laga de."
Enough about these Gundays of Calcutta, who are worshipped by the common man, Irrfan Khan essays ACP Satyajeet Sarkar who wants them locked behind the bars like most 70s films. There's also a love-story in this bromantic movie. Our Gundays are in love with cabaret dancer Nandita (Priyanka Chopra). Oops! Will it affect their friendship? Will their bromance die 'coz of this newfound romance? And who will win Nandita's heart, Bikram or Bala? And will the other one be heartbroken? A lot of questions arise in our mind and most of them are answered in the first half. And it has quite a twist at the interval. The climax is such that you don't want the movie to stop playing! Hmph!
So, the plot of the film in a nutshell is best described like this – Bikram and Bala are the Gunday, Nandita is their love interest and Satyajeet (Irrfan) wants to catch the wronged heroes. It's simple but very very interesting. You could call it predictable, but enjoyable overall.
Some dialogues that you can take home with you: 'Aag ke liye paani ka hona zaroori hain', 'Ho aap vardi vale par aapke tevar hain Gundon vale'. And there are many such witty lines in the film, which keep you glued to the screen all throughout. The story is good and so is the music. It's catchy. Some action scenes are funny. Bikram and Bala totally steal the show and their chemistry is sizzling. We aren't kidding!
Gunday is about friendship, love, betrayal. Ranveer and Arjun are styled differently – they are quirky and don't mind flaunting their hot bods, you won't mind the weird outfits. Priyanka's closet doesn't do justice to the era in which the film is set. But then again, why complain, hai na? She's hot and why should boys have all the attention, right? Ali Abbas Zafar has done a great job with his cast. It's certainly worth watching 'coz Gunday isn't a serious film which makes you leave the theatre with a heavy heart and neither a typical masala entertainer nor 'the happily ever after' kinda rom-com. Gunday is different and we love it!
Rating:
out of 5
Reviewed by Bhagyashr​i Pawar
* Poor
** Average
*** Good
**** Very good
***** Excellent