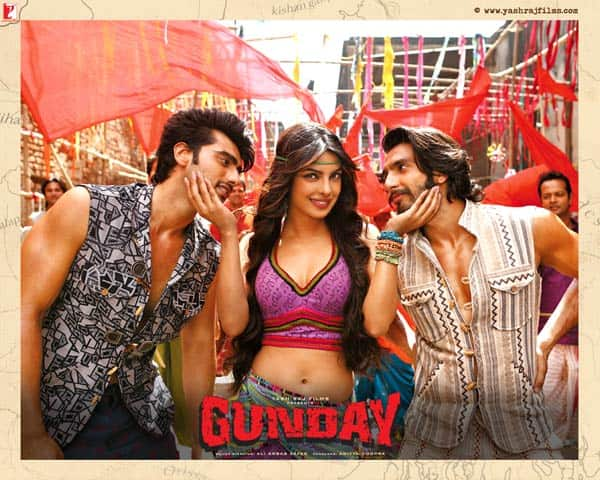 Music: Sohail Sen
Singers: Javed Ali, Shadab Faridi, Vishal Dadlani, KK, Neeti Mohan, Bappi Lahiri, Arijit Singh, Neha Bhasin, Shahid Mallya, Altmash Faridi, Sohail Sen, Monali Thakur and Kinga Rhymes
Lyrics: Irshad Kamil
Directed by Ali Abbas Zafar, Gunday starring Ranveer Singh, Priyanka Chopra and Arjun Kapoor will hit the theatres on February 14. Since it is a Yash Raj Films production, we had high expectations from it as far as the music is concerned. After all, YRF films are usually high on naach-gaana. So has music composer Sohail Sen lived up to expectations? We certainly think so. While a few songs are exceptionally good, others are not bad, though they could have been better. But we aren't complaining much, coz the music of Gunday stands out as fresh and vibrant. Also, the jodi of Sohail Sen and lyricist Irshad Kamil seems to have struck the right chord, which is good for the movie, as music has always played a major role in a film's success, at least in Hindi cinema.
First up is Jashn e ishqa, sung by Javed Ali and Shadab Faridi. It's a fast paced number with peppy music. As soon as the song starts you hear the electric guitar in the background, nicely done and with a rock vibe. The lyrics aren't as powerful as the music, which is a bit disappointing. Over all, Jashn e ishqa is a good listen if you're bored of slow, lovey-dovey songs. The makers have added another version of this one titled Rhythm of jashn-e-ishqa, but it's strictly okay.
Next on the list is Tune maari enrityaa. Now this is a full-on entertaining number and will surely compel you to groove to its dhamakedaar drum beats. Sung by disco king Bappi Lahiri, KK, Neeti Mohan and Vishal Dadlani, it will keep you at the edge of your seat from the word 'go'. Catchy music, quirky lyrics and great vocals make it worth hearing again and again. What's even more interesting is the video – Ranveer Singh and Arjun Kapoor go completely crazy to patao Priyanka Chopra. For the longest time, there has not been a song and its video that sync so well. So you just can't afford to miss this one! Bappida has also sung the Bangla version with Monali Thakur, but the Hindi rendition of Tune maari entriyaa is much better.
Jiya is a romantic ballad. Sung by Arijit Singh, this number is undoubtedly the highlight of the album. While most YRF love songs are slow and mushy-mushy, Jiya is different in every aspect. The background music is heavy and Singh's powerful voice will remind you of AR Rahman's. Meaningful lyrics, soulful background music and Arijit's melodious voice makes Jiya a must-hear. And if you're in love, you'll surely put this one on loop. However, the video could have been way better, the very sexy Priyanka Chopra notwithstanding.
Asalaam-e-ishqum is not that great. The combo of Bappi Lahiri and Neha Bhasin doesn't work for me. Especially after hearing a foot tapping number like Tune maari entriyaa, Asalaam-e-ishqum just sounds blah and wannabe. It wouldn't be a bad idea to skip this track.
Saaiyaan sung by Shahid Mallya is again a very soulful rendition. The song has a sufiyana feel to it which will surely please your ears. The music is soothing and Irshad Kamil's lyrics are equally great. But the best part of the song is Shahid's beautiful voice. He has crooned this number with great ease.
Mann kunto maula is a surprise package. Altamash Faridi and Shadab Faridi, who have sung this one, have done a terrific job. The track starts off as a Sufi song and then you hear dhol beats and finally, the guitar. Though Sohail Sen has played with different instruments in Mann kunto maula, the entire transition is so smooth that it will blow your mind. With guitar in the mainstay, Sen has tried to give this number a modern touch. And wethinks he has indeed succeeded. Another must-hear! A classical version of Mann kunto maula is an absolute treat. All those who love spiritual, soothing songs would be happy to add this to their playlist.
The title track Gunday is just average. Composer Sohail Sen has gone behind the mic for this one, along with Kinga Rhymes. Though the song isn't bad, it failed to hold my attention, maybe coz it sounded more like a story narration than a song. But hearing it once wouldn't hurt.
All in all, the composer has done a fine job with music for a film set in the '70s. Do listen to the Gunday music album – it is a mixture of very interesting and 'different' songs.
Rating:
out of 5
Reviewed by Namrata Thakker
* Poor
** Average
*** Good
**** Very good
***** Excellent