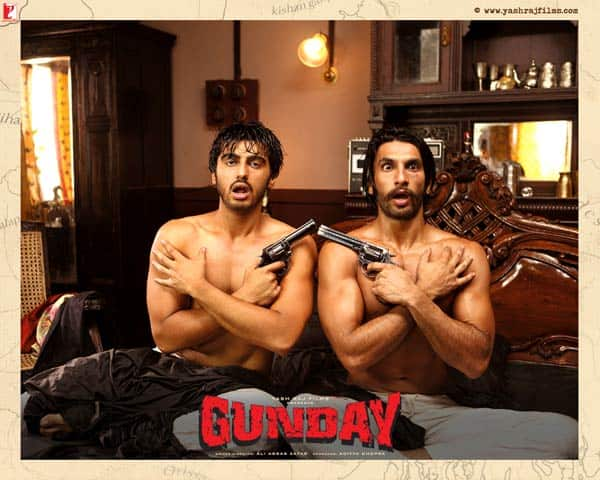 skip advertisement
Here are the fresh stills from Yash Raj Film's forthcoming production Gunday. Take a look at this exclusive picture gallery and tell us which gunda you find sexier between the two
Starring Ranveer Singh, Arjun Kapoor, Irrfan Khan and Priyanka Chopra, Gunday is one of the biggest releases of 2014. The film is set during Calcutta's most turbulent times of the '70s and this is the soul of the film with the characters seeped in the culture of that time. Director Ali Abbas Zafar's Gunday is about two men Bala and Bikram (played by Arjun Kapoor and Ranveer Singh respectively) who rise from their humble backgrounds and become the most powerful mafias.
As the duo's notoriety becomes the stuff of legends, people of this sprawling city start calling these two carefree rebels. We have seen the duo sporting their retro looks from the movie where as Priyanka Chopra's looks hatke. In fact PeeCee's character looks intriguing, mysterious and fascinating. The babe has been shown in both traditional as well as in modern avatar-doing both desi thumka and the western cabaret with equal panache.
But the man…err the men of the moment are Ranveer and Arjun. While the former is known for his incredible energy the latter impressed us hugely with his performance in Ishqzaade and Aurangzeb. Both look rugged and raw with their looks. But we must add that whenever Ranveer shares the frame with Arjun your attention invariably gets fixed on the Ram-Leela lad. Now you take a look at this exclusive picture gallery and tell us who do you find more appealing-as the raw and overtly macho gunda from these stills.