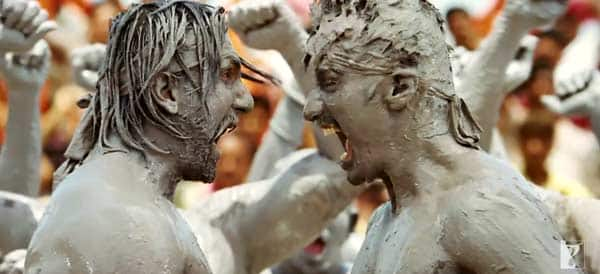 Watch the dudes of Gunday showing off their onscreen chemistry as they try to match their steps for Jashn-e-Ishqa number
When two young lads come together to do a film, where both are playing the leads, there's a sense of rivalry that cannot go unnoticed. There's this urge to outdo the other and the ego tussle is quite apparent. But that doesn't hold true for these two Gunday-Arjun Kapoor and Ranveer Singh. They not only complement each other but also create the raging fire of bromance onscreen as they have tremendous fun. Don't believe us? Take a look at the making of Jash-E-Ishqa song from Gunday and you will know what we are talking about.
While Ranveer shows off his hot bod and his incredible energy, Arjun matches the hyperactive dude with his calm But reassuring screen presence. The two are seen having a ball together as they showcase their raw energy and incredible bromance. Singh tends to go overboard at times and keeps up with his accident-prone image even in this making. He keeps getting injured-thanks to his wild head butt or he gets all the bruises and cuts while making this song livelier and cheerful. Watch the video and tell us what you have to say about this zestful bandhuprem BL folks!