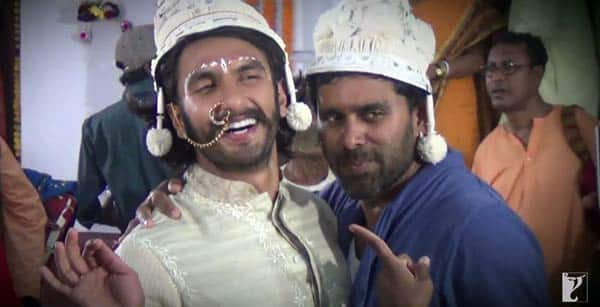 Tune maari entriyaan is undoubtedly one of the best tracks from Gunday. While this upbeat song got us grooving, Ranveer and his co-stars had a gala time while shooting it
Tune maari entriyaan from Gunday is a visual treat thanks to Ranveer Singh, Priyanka Chopra and Arjun Kapoor who have danced their hearts out. While it's a full on dhamaal song, the trio had did have a tough time filming this number. In the making video, PeeCee reveals that though she had loved her Bengali bride attire in the song, it wasn't easy to dance in the saree. Even Ranveer and Arjun kept falling on each other while shooting Tune maari entriyaan. That's not all! While shooting one of the dance sequences, Ms Chopra got hurt as Ranveer's hand came in the way. But the dusky beauty keeps shooting. Bravo! Also, the trio felt the heat literally while shooting this entertaining song. Watch the video and you'll know what we are trying to say. However, Ranveer-PC-Arjun despite all the odds gave their best shot, went crazy and had fun. And that's exactly what we got to see in the song, hai na?
If you had fun watching Tune maari entriyaan then the making to this song is even more interesting. So quickly check out the video and we are sure you'll be smiling throughout!
[flv]http://st1.bollywoodlife.com/wp-content/uploads/2014/01/Making-of-Tune-Maari-Entriyaan.flv[/flv]