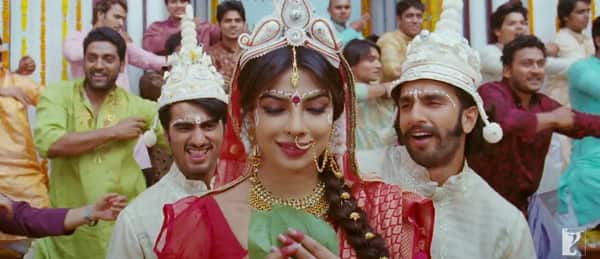 The bond between the two macho men reminds you of the Jai Veeru dosti in Sholay…
After watching the teaser of Gunday, it has been a long and impatient wait to catch the trailer of the film by Ali Abbas Zafar starring Ranveer Singh, Arjun Kapoor and Priyanka Chopra. While we missed the Exotic babe in the teaser, we were really happy to see her in a sexy avatar in the trailer of the new film, releasing on Valentine's Day next year, February 14, 2014. The two men are such good friends that they do everything together, even falling in love with the same girl – Nandita, played by PC.
Set in the 1970s, Ranveer and Arjun are Bikram and Bala, who begin heir lives in the gallis of Calcutta as gun couriers. As they grow up and learn street smarts, the two become coal smugglers. The pairing of the two actors and the almost manic energy that they share instantly reminds you of the Jai-Veeru (Amitabh Bachchan and Dharmendra) bonding in Sholay. In the scene in which the men jump off a cliff on to a train carrying coal and are then confronted by their rivals, is stunning. When Ranveer says 'Aaj ko iss koyle se bhari hui train ko lekar nikal gaya, train bhi uski, koyle ka dhandha bhi uska' makes you want more…lots more. And then there is Priyanka, playing a cabaret dancer, her sexy moves far outdoing her act in Babli badmaash (Shootout At Wadala) and Pinky (Zanjeer), her revealing costumes and heavy makeup offsetting a youthful vulnerability that is sigh-inducing. Apart from this, we really liked Irrfan Khan's portrayal as a don – and we cant wait to watch what happens when they all share the same frame.
From this trailer, Gunday seems like a film that is a perfect collation of drama, action and romance. Don't you agree with us, BollywoodLifers?