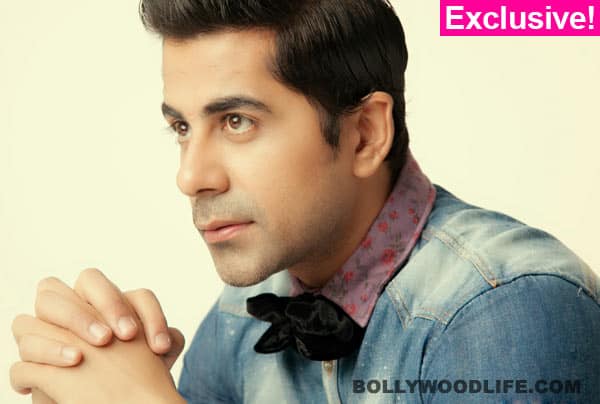 The dishy actor claims that he is unaffected by the return of Vivian DSena 'coz the change in the script has not changed or eliminated the importance of his character
Gunjan Uterja talks about his character in Madhubala Ek Ishq Ek Junoon – Abhay Kapoor, becoming a superstar, working with Drashti Dhami, Vivian DSena's return, and his plans for the future.
Do you think you've achieved the status of being a superstar with this show ?
It's a dream for every actor to be a superstar. However, I would not call myself a superstar. That tag is for people like Amitabh Bachchan, Brad Pitt and George Clooney. They have an excellent body of work since ages and have proved themselves repeatedly. They are superstars; I have just begun my journey.
How similar or different is Gunjan from Abhay Kapoor?
Same but different! The similarity is that like Abhay I believe two things are very important in my life – my family and my work. Like Abhay, I am dedicated to my craft. Thirdly, Abhay and I are humble. In spite of everything I have achieved, I have never changed as a person. I was brought up that way. The only dissimilarity is that Abhay has a big emotional baggage on him. I am someone who does not carry that kind a load on me.
Are you saying that tomorrow, if you become a superstar you will not change as a person?
I believe you will be at a better position to judge, 'coz you have seen the other side of people before and after stardom. It is natural for people to change, but that doesn't mean I will become arrogant. I would never be inhuman nor will I disrespect anyone. That's a promise!
How did you prepare for this role?
Just before I got the offer, I was rather healthy. I lost ten kilos and toned up my body just when I got the role. I am glad, I worked out religiously and got myself into shape. I think it is important to look and feel fit when you are playing such glamorous roles.
What was your first reaction when you met Drashti Dhami?
I met her for the first time on the sets of Madhubala during the screen test. She is very beautiful and sweet. She would come, learn her dialogues and deliver it to perfection. I saw her and realised that's where they are getting the TRPs from. I told this to her and the creative head sitting next to her. She is fast and gets into the skin of the character effortlessly.
How has the response been to your character Abhay Kapoor and Gunjan?
The response has been great. I get messages, tweets and Facebook comments constantly. Frankly, I do not handle any of it. Until a few days back, I didn't even know how to handle twitter. My first day, I almost retweeted everything I saw. I really do not have time for all it. My Facebook page is rather personal and I have my close friends on it. I still get about 300 requests every day, just goes to show that people love my work.
Do you regret taking up Madhubala Ek Ishq Ek Junoon?
Not at all. It is an interesting concept unlike the other things that were offered to me at that time.
When did you get to know that Vivian DSena is coming back?
I was informed about it a day before he shot the promo.
From playing the hero, now you are be playing the villain – How do you feel about that?
I am doing Madhubala Ek Ishq Ek Junoon for the character of Abhay Kapoor and the shades he has. Since the beginning, I was told that Abhay would be a very sweet boy with some great qualities. As an actor, I always knew that Abhay could not remain the same. He will fall in love and then something will happen that will change and alter his character. It was obvious that I will change when I learn that Madhubala was Rishab Kundra's daughter. And that's exactly what has happened. The only thing no one really knew about was Vivian's return. Nothing has changed even if Vivian has come back.
How do you find Vivian DSena as a person and co-star?
I met him thrice before we began working together. I was just ten days into shoot, Vivian had come on the sets and we met then. We chatted for about 25 minutes about the show, our characters etc. It was great talking to him and we share a good rapport…
While the story will now be a triangle love story, Vivian will still get Madhubala in the end, right?
It does not matter who gets the girl. The story is the hero here. Abhay Kapoor, RK and Madhu are nobody if there is no story. The time for hero and anti-heroes are over. Not everyone can be the same all throughout his life. Like in real life, situations change a character; it is similar in daily soaps as well. Similarly, Abhay has several sides to his nature as well.
Do you think the TRPs were affected when Vivian left the show and did it change much when you came on board?
They say statistics are the best means to tell the story. I joined on February 13, check the TRPs before and after that, I am sure you will see the numbers. In the history of television, no show has climbed the charts overnight. Everything takes its own time. For two years, people were used to seeing Vivian. Overnight the makers changed the show into a romantic comedy. Of course, the numbers dipped, but it picked up again. We are doing better than Rangrasiya and Beinteha. The only shows which are above Madhubala, is Balika Vadhu and Sasural Simar Ka, which is again 'coz of the loyal fan following since ages.
How has your family and friends reacted to Vivian DSena's return?
It does not matter to anyone. When I got Madhubala they did not react, they were happy for me. They know I am talented and I will get bigger and better opportunities. I think the whole thing about Vivian coming back has been blown out of proportion. What is the big deal if he came back? He has been a part of this show for the last two and half years. He hasn't taken anything away from me. See AK and RK may be rivals but Gunjan and Vivian are not. We are here to do a job that is about it. I think he quit because he was not happy playing a father. There is no hero and anti-hero angle here.
If given an opportunity would you take up a role on any other channel if they offered you the protagonist?
Why would I do that? I am part of such an interesting project. I am not an opportunist.