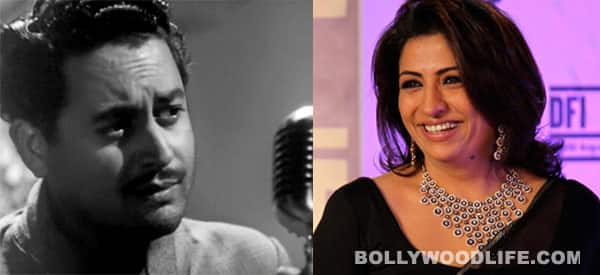 Talwar has also secured exclusive rights to use the best songs from Dutt's cinema
At last that film on the life and loves of master storyteller Guru Dutt, which every prominent filmmaker wants to make, will be made by Dharm fame Bhavna Talwar. What's more, she has secured exclusive rights to use all the celebrated songs from Dutt's cinema.
Shedding light on her ambitious Guru Dutt biopic, Bhavna said, "It would look at the man and the filmmaker from one range of vision, mine. There will be lots of music. But only what is required. We won't over-use Guru Dutt's vast repertoire of music just because we have access to it."
Sachin Dev Burman, Sahir Ludhianvi, Geeta Dutt and Mohammed Rafi…the super-iconic music makers were an integral part of Dutt's cinema. And now immortal songs such as Jaane kya tune kahi, Waqt ne kiya kya haseen situm, Yeh duniya agar mil bhi jaye toh kya hai and Dekhi zamanein ki yaari would now feature as part of the biopic.
Saregama/HMV, the oldest and most well-stocked music company of the country, which owns the copyright for all the songs and music of Dutt's cinema, has given Bhavna the exclusive right to use the entire body of Guru Dutt's music.
Adarsh Gupta, Business Head, Saregama, confirmed the deal. As for Dutt's family raising objections to the biopic, a source close to Bhavna's film said, "We're very clear on the legal aspect of filming a real-life personality. We'll only be using information on Guru Dutt that is in the public domain."
Photo: Guru Dutt – Film still | Bhavna Talwar – Santa Banta