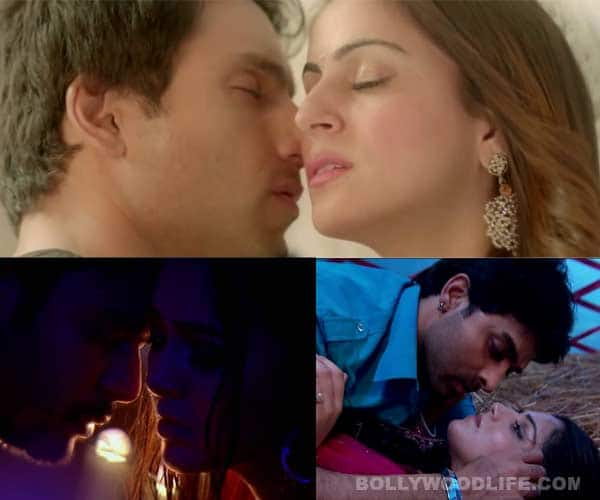 Who says steamy, sexy and seductive romances are only meant for the 70mm screen
All thanks to the czarina of tellyland – Ekta Kapoor. Television soaps today have become bolder than we'd like to imagine. When the soap queen decided to make a 40-something hero Ram Kapoor, go coy with his 30-something heroine Sakshi Tanwar in Bade Acche Lagte Hain – she was starting a bold phase on the small screen.This new trend soon caught on like wild fire (quite literally). Of course, sitting with the family and watching the adult content in serials has become a bit awkward since then, but we ain't complaining. Following the BALH scene, a lot of TV show makers have even started including a consummation clause in their contracts, so we hear. Popular shows like Gustakh Dil, Bani Ishq Da Kalma, Sanskaar Darohar Apnon Ki have already aired the steamy lovemaking scenes and now we are waiting for Tumhari Pakhi, Jodha Akbar and Iss Pyaar Ko Kya Naam Doon 2 to follow suit in the coming days.
We bring you videos of the latest shows that have shed inhibitions and brought out the romance uncut, just in case you mind watching it alongside your little one or then parents. Here's a dekho…
Tumhari Pakhi: Mil rahe maaine 18 saal ke intezaar ko; ho raha hai Pakhi aur Anshuman ka milan (After 18 years, Pakhi and Anshuman are uniting in the true sense). Married as kids, Pakhi and Anshuman obviously didn't have a first night. The distance followed by Anshuman's second marriage never let them take the relationship to the next level. When they finally reunited to be married again after 18 years like we mentioned earlier, romance was amiss. After all the problems, the two are now in love and the promos suggest they will finally 'do it'. Ahem…ahem!
Gustakh Dil: Nikhil married the village belle, Laajo out of pity, but never realised that one day he would be head over heels in love with her. He comes to Sonabarsa to prove his love and marry Laajo again. Obviously there was a huge build up for their first night together. In typical filmi style, he takes off her jewelry one by one and Laajo plays along playing the coy bride who turns pink with every passing moment (Don't miss the orgasmic expressions). This lovemaking scene is more elaborate where one sees Nikhil kiss her bare skin – wherever he can spot it and Laajo reacts to all his advances. While we were hoping that the makers would aesthetically create the same impact as Ekta's show, this one ends with them waking up in bed fully clothed and with disheveled hair, which explains what happened at night. Guess we can't expect it to be a full blown sex scene since it goes on air at 7.30 pm.
Sanskaar Darohar Apnon Ki: Deepika spiked Jai's drink to share the bed with him. But his contract wife, Dhara came to his rescue by sleeping with him instead. Never thought we'd see a day like that now, did we? So the story goes like this. Jai is in a hotel room in a semi-conscious state. Dhara comes to the room in order to get Jai back home, but in his semi-conscious state he pulls her to the bed. Dhara, who is in love with Jai, sees this as an invitation and willingly submits herself to his caressing touch and pecks… Now we don't intend to get any more graphic than this 'coz that was all that you will see on show as well. However, we believe this one was shot very well.
Bani Ishq Da Kalma: You might find this scene similar to Sanskaar Darohar Apnon Ki. Sohum is upset with Rajji for tricking him into marriage. He is sitting in the barn trying to bury his sorrows in alcohol, when Rajji interrupts him and takes away the drink. In the process, Rajji trips and falls right into his arms – how convenient. Science claims that testosterone levels are super high under the influence of alcohol and TV proves it. Guess that's why this situation seems perfect, to be fitted with a lovemaking scene. However, we think it ended rather abruptly.
Kaisa Yeh Ishq Hai Ajab Sa Risk Hai: While most first night sequences are shot within the four walls of a room, the makers of this show have tried to be different. They show Rajveer and Simran consummating their relationship on a makeshift bed laid out in the garden. Was the couple trying to beat the summer heat or just exploring their kinky side? Giggle!
Iss Pyaar Ko Kya Naam Doon 2: After the debacle of their first attempt at marriage, Shlok and Astha have finally accepted each other, fallen in love and married again. Their first night, which has been pending for long, we hear will soon be shot. It's about time! Remember, when Sanaya Irani and Barun Sobti consummated their relationship in Iss Pyaar Ko Kya Naam Doon (the previous season)? It was scintillating, so much so that people even watched the repeat of that episode twice. Well we hope the second series manages to create the same impact.
Jodha Akbar: The royal couple has accepted their feelings for each other. We are sure that the first night in it's true sense is not too far away. Somehow, whenever we think of it, we imagine the song In lamhon ke daaman mein…(from Ashutosh Gowariker's Jodhaa Akbar) playing in the background. With Rajat Tokas and Paridhi Sharma's crackling chemistry, we are sure this scene will make the fans drool and get the numbers soaring.
Among all the steamy lovemaking scenes that have gone on air so far, none have managed to beat the intensity that Ekta showcased in Bade Acche Lagte Hain. What do you think Bollywoodlifers?