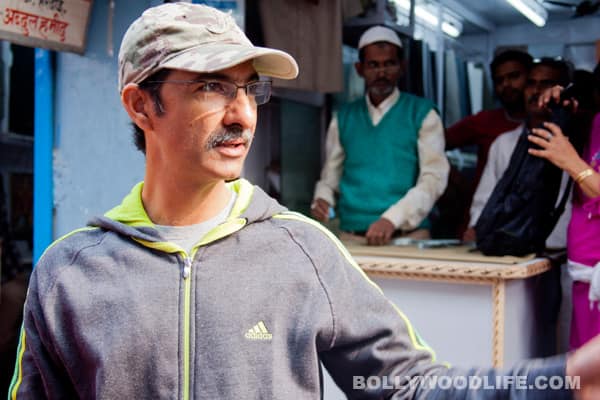 After directing an innately charming, simplistically entertaining slice of life flick, Do Dooni Chaar, Habib Faisal comes up with a spunky love story set in a small town, Ishaqzaade, as his next. You'd say, yet another prem kahaani. The salt and pepper-haired writer-director says, why not!
In times when filmmakers are breaking stereotypes and experimentation is the key to success, Habib Faisal – under the illustrious banner of Yash Raj Films – comes up with a safe plot: Parma (Arjun Kapoor) meets Zoya (Parineeti Chopra), they fall in love and go through a series a hardships before arriving at a happy end.
Seated in a meeting room on the second floor of Yash Raj studios' corporate office, the salt and pepper-haired writer-director says, "It's (film's story) a cliché structure, but the beauty about it is that you can weave so many things around it. You can make a Casablanca and talk about world politics. You can make a Mughal-e-Azam, a Bobby, a Dilwale Dulhania Le Jayenge and a Band Baaja Baaraat (BBB)."
Ask him how is Ishaqzaade different from any of the love stories that have been come out so far. "Ishaqzaade is a love story set in the small town," says Faisal and goes on, "I have observed that post reforms there is a new kind of tevar (attitude) and akad (haughtiness) among the youth there. They no longer say, 'Chalo Dilli' or 'Chalo Mumbai'… They are as clued in (on happenings) as much as any city dweller. And it's that spunk that comes out through my love story." And another thing Ishaqzaade attempts is to break the illusion that falling in love and acceptance of love are easy. Faisal blames films for projecting this false reality.
Given so many small town nuances, isn't Habib alienating the multiplex and NRI crowd? "The one thing I have learned from Do Dooni Chaar and Band Baaja Baaraat is that the more culturally specific the story is, the more universal it becomes. Coz it'll be that much truer. Whatever is happening is happening in the small town in the film is universal for anybody, anywhere. The telling thing is that Arjun and Parineeti, who are so urban and far removed from Almod – they were dying to do this film because they understood it."
Speaking further on the cultural divide, the soft-spoken filmmaker says, "I watched BBB in Gaiety with Marathi speaking audience. The moment that scene came where Ranveer refers to their lovemaking as kand, there was this wave of laughter. I also heard people asking each other, kand kya hai. They didn't get the literal meaning, but got the onomatopoeic meaning. They got it from its sound. When the Iranians make their movies they don't take away the cultural specificities for the American speaking audience. And yet, Iranian films are watched world over. Chinese filmmakers and Hong Kong filmmakers make their films retaining their cultural nuances. For some reason we shy away from it."
During the conversation the filmmaker reveals that Ishaqzaade was earlier titled Tevar. However, the Do Dooni Chaar director says, "It didn't suffice. We were looking for something that said love or lovers. Laila-Majnu and Raj-Simran were passé. So we made up this word Ishaqzaade, which means people who stand by their love."
If stories leaked out by unidentified sources to tabloid journalists are to be believed, Faisal wasn't thrilled to cast newbies Arjun and Parineeti in his small town romance. The filmmaker quickly corrects me, "No, it wasn't the case that I was not happy. It's just that I had to be sure that Parineeti with her Manchester accent and Arjun with his Juhu upbringing could play these characters in a fictitious small town called Almod."
But that's not all, "It's very important for me that everybody gets as excited about the story as I am and not fake excitement. So I had to see if the enthusiasm levels were same and to see there is that malleability to break them out of what they are. I guess every newcomer has a certain reference that my walk will be like Shahrukh (Khan), my talk will be like Amitabh Bachchan and when I walk there will drums playing. But here I was, Habib Faisal, with my Do Dooni Chaar kind of approach."
One of the writer-director's idiosyncrasies is to incorporate the actor's mannerisms in his fictitious characters. Faisal made Parma smile a lot in the film coz Arjun has a beautiful smile. In Ladies vs Ricky Bahl, there was a lot of Parineeti in Dimple Chaddha's character.
Another fetish he has is for small towns. Does Faisal's key to success lay in presenting the little known India onscreen? "Small North Indian towns are so vibrant. But I don't want to keep doing that again and again. I want to make all kinds of films. I want to make thrillers, science fiction, bedroom farces and romantic comedies. I want to make a film set in Madurai!"
Faisal, who started his career in films as a scriptwriter, is now directing movies, so does his first job take a backseat? "I know of directors who after their first film find writing very tiresome," he says and continues, "I find writing for someone else very therapeutic. I am straight away getting into writing a script for someone else, then I will write a film for myself." Push him to reveal his future plans, and he just smiles.
Ask him if he can direct someone else's written work. After a pause, Faisal says, "I would love to direct someone else's script as long as the story is exciting and it has the concerns that excite me…why not. I have this big problem – I want to make films that are entertaining, but it also has to have something for people to walk away with."
We hope we walk out of the theatres after watching Ishaqzaade with a something more than the high and low points of a budding romance.