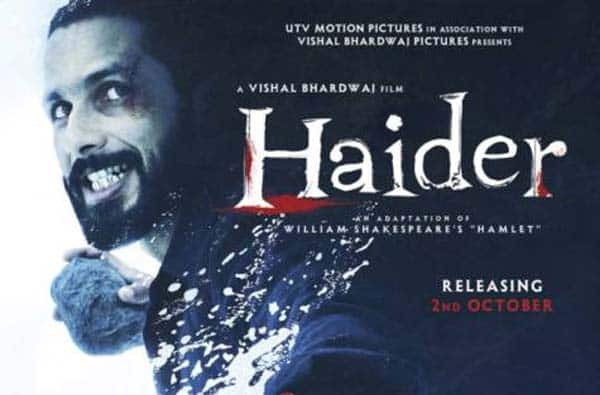 Shakespeare's longest and most tragic play has been adapted onscreen but people are facing trouble understanding it. Here's a rough guide which will help you co-relate with Vishal Bhardwaj's adaptation featuring the R…Rajkumar actor
The trailer of Shahid Kapoor's Haider released yesterday and trust us, people who have not read the book will not be able to understand anything about it. So we decided to help you'll out with some information from Hamlet, so that you could gaze the story line a bit and also co-relate with the characters.
Characters:
-Shahid Kapoor plays the central character of Haider, which is based on the character of the original Price Hamlet.
-Irrfan Khan plays the character of Shahid Kapoor's father, who has recently deceased. It draws inspiration from the character of King Hamlet from the play.
-Kay Kay Menon plays the character of Shahid Kapoor's uncle and brother to Irrfan Khan. He is the one who kills Irrfan Khan. Kay Kay Menon plays the role of King Claudius from the original play, who ascends the throne once King Hamlet is dead.
-Tabu plays the wife of the Irrfan Khan, and once he is dead, Kay Kay Menon marries her. Tabu plays the character of Queen Gertrude, whose character is the most conniving character in the whole play.
-Shraddha Kapoor plays the role of the potential wife of Shahid Kapoor. She plays the character of Ophelia from the original play. She has hardly any role in the play and it will be interesting to see whether Vishal Bhardwaj has increased her screen presence just because Shraddha is a big star now.
The story line goes something like this:
Irrfan Khan, the head of the family and the governing party is killed. Everyone knows that he has been killed by his younger brother Kay Kay Menon, but no one says anything as Kay Kay Menon is the new leader and no one wants to oppose him. But, Shahid Kapoor, the son of Irrfan, takes it onto him to take the revenge of his father's death. He tries to get his mother Tabu in his favour but by then, Tabu is already re-married to Kay Kay Menon. Tabu, is very conniving as she is the one who plotted the murder of Irrfan along with Kay Kay Menon. When she gets to know that Shahid is behind Kay Kay Menon's life, she tries to make Shahid believe that she is love with him and tries to make Shahid romantically inclined towards her. Shahid, on the outside, is romantically involved with Shraddha Kapoor's character.
Now Shahid's character is in an emotional turmoil as to whether he should kill Kay Kay Menon and complete his promise to his father, or should he believe his mother Tabu and not kill Kay Kay Menon. He knows for a fact that Tabu is trying to manipulate him, but he is unable to stop himself from falling for her charm. As the second poster shows Shahid standing up and talking to the skull and giving the famous "To be or not to be" speech from Hamlet, it is presumed that at this juncture he will finally sort out his emotional turmoil, and make up his mind to sort out all the mess that's happening in his life.
So BollywoodLifers, that's a take from our end. We hope you are able to co-relate with the characters now and get a fair idea about the story line of the film. For an even clearer idea, go ahead and read the book based on William Shakespeare's play Hamlet.