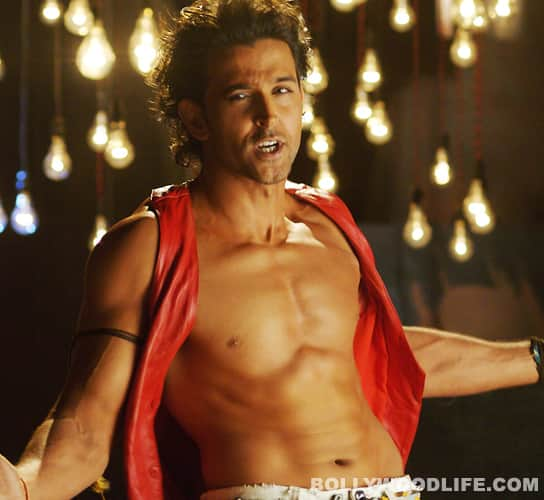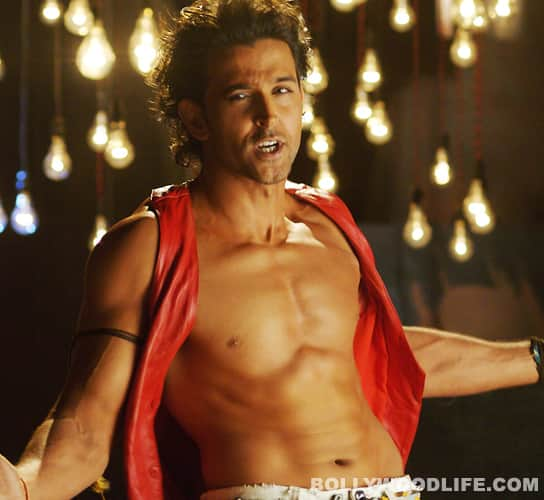 One thing no Khan can do better than the star Roshan, is dance. The Khans may rule the BO, but when it comes to dancing, 38-year-old Hrithik is the king, the badshaah, the superstar!
In his debut film Kaho Na Pyaar Hai, he danced his way into the hearts of millions with Ek pal ka jeena. Today he is one of the most sought after stars in Bollywood, right up there in the galaxy with the various Khans. What makes Hrithik Roshan extra-special is that he has pushed himself hard to become what he is today. He started off as a gawky teenager, assisting his father and doubling as a glorified spot boy for Salman Khan and Shahrukh Khan while shooting their home-production, Karan Arjun. He has come a long way since! As the dancing star turns 38, we took a look at a few of his best moves that will always be popular. And you tell us, which is your favourite?
Mission Kashmir
After his debut film, Hrithik tried his hand at serious cinema with Khalid Mohammed's Fiza and Vidhu Vinod Chopra's Mission Kashmir. Neither film did exceptionally well, but the saving grace was Duggu dancing to Bhumbro in Mission Kashmir, a song based on a traditional Kashmiri folk tune.
Yaadein
It may have been one of the biggest flops of Hrithik's acting career, but people blamed director Subhash Ghai for it. Duggu redeemed himself with Dil mile in which he danced like a possessed dervish. One highlight of the song is an army of Hrithiks – which was made possible by some low-grade VFX.
Kabhi Khushi Kabhie Gham…
Though the focus is on Shahrukh Khan and Kajol in Karan Johar's saga about loving your parents, Hrithik stole some of their thunder with his moves in You are my soniya. HR flexed his muscles in a sleeveless jacket – that was enough to get the girls drooling in the aisles.
Koi… Mil Gaya
The Roshans' home production, this was Hrithik's first step towards playing a superhero. One of the first things that HR does after he gets special powers from the alien Jaadu is dance. It's magic is a showcase for Duggu's magical moves. He jumps, he flies, he falls and, in the end, does manage to impress Priety Zinta and the other girls in the party!
Lakshya
Hritihik gave this film his all, be it with dance, romance or action. Main aisa kyun hoon will be remembered for a long time as the first film where Prabhudeva made Bollywood's best dancer match his steps. The song happens in Duggu's dream in the film, but he dances like a dream!
Krrish
A sequel to Koi Mil Gaya, Hrithik graduates to being a full time superhero in this one. Dil na diya celebrates love, that too in a circus tent, thus giving HR enough scope to pull off a 'Jaadu step' again.
Dhoom 2
This one was about a thief outsmarting the cops in the sequel to one of YRF's biggest money spinners. Hrithik took over the franchise with such élan from the very first few minutes of the film. Dhoom again is still one of the most popular songs today and it has a lot to do with HR's nifty dancing.
Krazzy 4
Though Hrithik didn't act in this Roshans' home production, he did the first item song of his career for it. The dance in Break free is extremely special because Hrithik did it while his knee was badly injured. He wasn't even supposed to do the song and they had already shot another version of the song with Shahrukh Khan, but Hrithik got his version filmed as well – it was far better than SRK's attempt.
Luck By Chance
Zoya Akhtar's directorial debut was a celebration of all things Bollywood and without Hrithik's dance it would have been incomplete. Baawre is a carnival in itself and for once Duggu had someone who could match steps with him – Isha Sharvani. They redefined 'filmi' dance when they blended it with yoga.
Kites
The Roshans' most ambitious home production till date – also their biggest flop ever – this was touted as Hrithik's showreel for Hollywood. But Bollywood did get another hot import in Barbara Mori. Fire is the best thing about the film – Hrithik defies gravity, somersaults, stretches his legs beyond 180 degrees and pulls off a jaw-dropping performance.
[jwplayer mediaid="69628″]