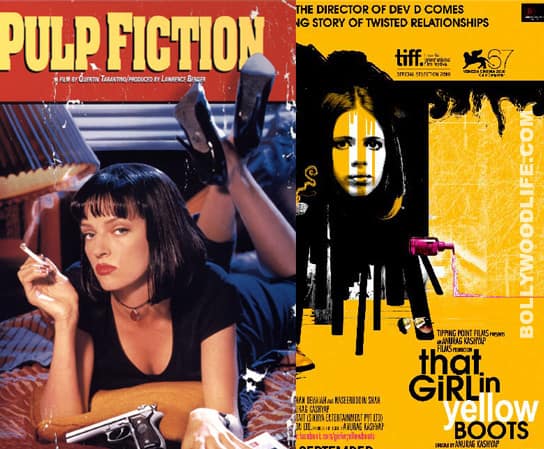 Many of India's contemporary directors, scriptwriters and screenplay writers are drawing their influences from Tarantino's filmmaking devices. They don't seem to mind admitting to their 'inspiration' either. After all, who would mind being compared to one of the most remarkable filmmakers of our times!
In 2002, Sanjay Gupta blatantly recreated the 1992 crime thriller Reservoir Dogs in the form of Kaante. Many called it a musical remake of the cult classic. While Gupta received a lot of criticism in India for copying the Quentin Tarantino film, Tarantino himself has admitted that Kaante is one of his favourites among the many rip-offs of his work. Trust the quirky filmmaker to come up with unconventional reactions! After all, he is a director who loves to shock his audience.
Apart from the inspiration obvious in Kaante, many contemporary directors and film writers have flaunted influences from Tarantino at various levels. And these are directors who have grown into powerful storytellers over the last decade. Abhinay Deo borrowed the shock value of a quintessentially Tarantino black comedy, is high on thrills – the climax scene in Delhi Belly was a near-replica of True Romance, written by Tarantino. In True Romance, the lead characters Alabama and Clarence are ambushed by cops and gangsters in a living room, but survive an epic shootout, just like Shehnaz and Imran Khan escape unharmed from a gun battle in a tiny hotel room.
It was not the first time that this scene from True Romance was recreated in Bollywood. Vishal Bhardwaj, who has often admitted to being highly influenced by Tarantino, had used the same mass shootout formula in an important scene in Kaminey.
One director who has repeatedly borrowed Tarantino's filmmaking devices is Anurag Kashyap. A self-proclaimed fan of the American director, Kashyap has used bizarre accidents, edgy frames and shock value to push his plots forward in films like Dev.D and. In 2010, Kashyap was at the Venice International Film Festival for the screening of his That Girl In Yellow Boots and he celebrated his birthday with his icon. As Kashyap cut the cake, Tarantino said, 'Action!'.
Kashyap, one of the very few directors who has managed to impact world cinema, is known to consciously and subconsciously merge his various world cinema influences – including that of Turkish filmmaker Fatih Akin's cultural, racial and gender confusions and storytelling (That Girl In Yellow Boots and Dev.D) and Tarantino's dark, violent plots (No Smoking and Black Friday). But what he has digested most brilliantly is the harshness, the despair and the sense of humour that Tarantino stands for. And so while you may not find direct scene lifts in his movies, you'll find the QT influences in the principal and the style of Kashyap's filmmaking.
Another director is definitely in awe of the Pulp Fiction maker's mastery over thrill and suspense. Tarantino has managed to make huge contributions to the noir genre with his first two films – Reservoir Dogs and Pulp Fiction. In fact, Pulp Fiction was referred to by some as noir or noir parody and neo noir by others. Sriram Raghavan walks the same path; he too has managed to make a big impression in this genre with just two films – Ek Haseena Thi and Johnny Gaddaar, which have become cult classics. Raghavan takes a cue from Tarantino's manner of paying extensive homage to other films and filmmakers in Pulp Fiction. The Bollywoodian has used this device quite obviously in Johnny Gaddaar, when he paid his tribute to Dev Anand's Johny Mera Naam and writer James Hadley Chase.
Even while making a mainstream action thriller like Agent Vinod, Raghavan indulged himself by using several old Hindi songs like Raj Kapoor's Jeena yahan from Mera Naam Joker. He also replicated the poetic violence of Kill Bill. The scene where violence enfolds in a hotel lobby against the background of the romantic song Raabta reminds you of the scene from Kill Bill where Uma Thurman indulges in a blood-splashing sword battle with hundreds of fighters even as a soft soundtrack unspools. Raghavan has always maintained that he loves writing his films just like Tarantino, who is a super writer.
Some of these influences are conscious duplications, but most are subconscious. Tarantino's distinct style is something very few filmmakers can resist when making their own films. His influences can only push our filmmakers to make breakthroughs in the noir, action and dark comedy genres. What bigger tribute can Bollywood pay to this master of stylised storytelling?