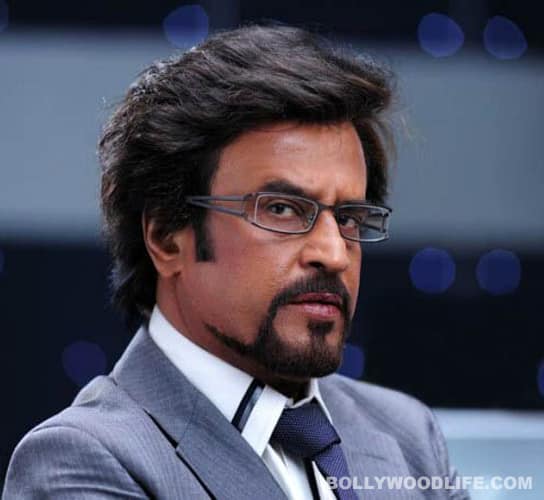 Tamil Nadu has reported two major phenomena to the world: 'Raman Effect' and 'Rajni Effect'. One is proven. The other is beyond proving. Rajnikanth, as is the case with most Indian Gods, means many things to many people. For some, he is an ageless man machine and for some, it is his larger-than-life screen presence that matters. But no one has so far been able to comprehend the Rajni phenomenon for what it truly is. We wish the actor a happy 62nd birthday today…
Rajni has now gone truly global. If 'Muthu' gave him a legion of fans in Japan – they know him as 'the Dancing Maharaja' – Sivaji and Enthiran spread his fan base across continents. So what next? The much-awaited Rana has reportedly been kept on hold and Kochadaiyan is now the 'next thing' for Rajni. To be produced and directed by Rajni's daughter Soundarya, Kochadaiyan would be shot with 3D motion capture technology and hence would not require the effort that Rana would demand from the superstar, who is convalescing after a kidney scare.If health permits him, Rajni can perform the most amazing of stunts, silly for some, superb for many. There might be a smirk or two from an elite section of audience, but that would be buried in a roar of excitement that comes from the uninhibited millions that stream to the theatres to see him. Only him!
Rajni is a Maharashtrian by birth, Kanandiga by mother tongue and Tamil icon by destiny. Destiny really comes into play for Rajni too often. How else would a freak Bangalore bus conductor, who was the passengers' delight, steer his way to iconic status in the Dravidian heartland? Little did the passengers know then that the staccato gibberish, wobbly mannerisms and punchy whistles they just laughed at were to assume a Herculean aura much later! A brief rendezvous with Kannada plays may not have done the trick. For all we know, it could have been his pal Raj Bahadur, who prodded the man from nowhere to take a trip to Madras Film Institute. A friend indeed! Raj Bahadur can only prod. It takes a K Balachander to spot fire in a raw talent. The veteran director, it seems, confided in his close friend and associate Ananthu, "Watch out! There is a fire in the young man's eyes. One day he will take Tamil Nadu by storm."
That storm has now assumed iconic proportions. Balachander also wanted Rajni to learn Tamil. A small role in Apoorva Raagangal came Rajni's way – he became the abusive husband of a character played by Sri Vidya. That may not have been a notable performance for pundits, but for Balachander, therein started the era of what is now known as 'Rajni Style'. No wonder how the lead role in Moondru Mudichu followed. Initially, it was negative characters that mostly came his way. Rajni did not shy away. It took S P Muthuraman, with whom Rajni went on to work for 24 more movies, to give Rajni the 'credibility of a positive character'.
In 1978, M Bhaskar gave Rajni his first full-length positive lead role in Bhairavi and a tag that he still carries with style – Superstar. That followed a deluge of action roles in the late 70s, befitting the new tag, but his villain days were definitely not over. Then came the typical Rajni twist. No one knows exactly why, but Rajni suddenly decided to quit films and go back to Bangalore. Was it the fallout of a tiff the emerging superstar had with MGR? Answers aren't that forthcoming. We can only assume then that well-wishers including Balachander and Kamal Haasan played Good Samaritans to coax Rajni backed to where he belonged. Some of South India's biggest blockbusters, including Billa, Kaali, Murattu Kaalai, Ranga and Moondhru Mugham, were just waiting to happen and hence it was only appropriate that Rajni returned.
The popularity charts began to soar and Bollywood came calling, with a role in Andha Kanoon, alongside Rajni's own idol Amitabh Bachchan. Andha Kanoon became a smash hit. With it began Rajni's friendship with the Big B, whose firm influence is evident in many of the characters Rajni unleashed on screen.
In 1991, Rajni movies began to roll on screen with a graphic prefix, which seemed to tell the world that he indeed was the only superstar. Before the titles, the filmmakers were destined to announce that it was a superstar movie above everything else. When 'S-U-P-E-R-S-T- A-R R-a-j-ni' appeared on screen, accompanied by a theme strain, theatres across Tamil Nadu trembled in the ensuing applause! Only Mani Ratnam would then have the guts to dismantle this cult precedence. Thalapathy rewrote box office numbers, but even Mani Ratnam was forced to alter the course of the climax so that instead of Rajni, the axe fell on Malayalam star Mammootty. The leaked script had triggered widespread agitations – Rajni's fans did not want their God, even as a character, to die. Mani Ratnam obliged, we are to believe.
And then, in 1995, Baasha happened. Manik Baasha  the character caught the fans' imagination like nothing else. That is the Rajni, whom diehard fans want even now. Sivaji and Enthiran may have been smash hits, but the real superstar that fans crave for, is epitomised by Baasha. For the die-hard Rajni fan, Baasha is the Bible, nothing more, nothing less. For reasons known only to Rajni, Baasha also prompted another shift. He decided to be selective. As in, he decided to make a screen appearance only once in two or three years. That only added to the box-office aura – Muthu, Arunachalam and Padayappa were all super hits.
Rajni then dabbled with screenplay for Baba. The spiritual trajectory of Baba, so unbecoming of Rajni's on-screen persona, was rejected outright. It bombed, but Rajni managed to pay off distributors, ensuring that he remained a 'bankable' star. Three years later, he returned with P Vasu's Chandramukhi, a remake of 1993 Malayalam film Manichitrathazhu. Then came Shankar's Sivaji in 2007, one of the costliest Indian movies till date. Rajni failed to work his charm with an uncharacteristic role in Kuselan, in 2008. Two years later, he teamed up once again with Shankar for Enthiran, another costly affair for the filmmakers, which was well reciprocated by the masses.
What next? Is it really Kochadaiyan? Will he rekindle his political ambitions? Will he make Baasha 2? Or will he just stretch his back and go into retirement mode? You cannot get these answers from Google. Not even from God! Only the omnipotent Rajnikanth has an answer to this. A famous Rajni punch-line is "Naan eppo varuven eppadi varuven, yarukkum theriyathu… Aana, varavendiya nerathile correct-a varuven!" (No one knows when I will land, how I will land… But the time is ripe, I will land in time.) Fans are only too happy to wait. For they know that the wait is worth it.
So we take the opportunity to wish the actor a happy birthday and hope he will continue to entertain us till the end of time. Wish Rajinikanth on his birthday here!