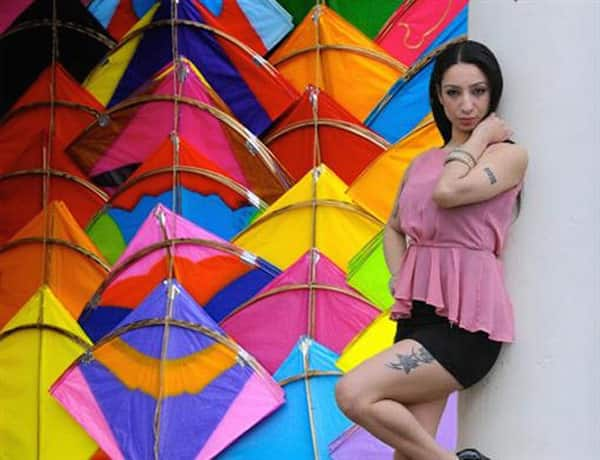 The pornstar made her Bollywood debut with Chal Doctor Doctor Khelein
Uganda-born Greek and Indian origin British porn star Sofia Vasileiadou, better known to you as Shanti Dynamite, is at it again. You already know that she is following in the footsteps of her peers Sunny Leone and Priya Anjali Rai and making her Bollywood debut with Chal Doctor Doctor Khelein. She has also expressed her desire to work with Salman Khan.
Shanti said, "If someone offers me a good script, I would love to work in Bollywood movies and especially with Salman Khan, he is a wonderful actor and very good-looking. I just love Salman Khan's entry in Jai Ho". Knowing Sallu's predilection for women of her ilk, Shanti's desire might turn into reality sooner than she thinks and the entry could be well nigh.
Shanti has also revealed that she has a festive side to her adult nature. She is actively celebrating Makar Sankranti from the outer reaches of frozen UK. A picture of her posing provocatively with a phalanx of erect and colourful kites has sent temperatures soaring. She has duly wished her legion of fans Happy Lohri and Makar Sankranti.
The sizzling Shanti has also revealed that she loves teddy bears and hopes to get cosy with Ranbir Kapoor. The erudite Shanti says, "My favourite toy is a teddy bear. I still have it and love him a lot. My teddy bears are my warm companions – good listeners, never critical and always reassuring. I'm not going to tell you its name! I've had it since I was nine. Maybe one day I'll share this bear with the world. Maybe. I've actually never had a real teddy bear to work with. But I will get him soon in Bollywood the chocolate boy Ranbir Kapoor. I want to cuddle him because he is so cute and lovely like my teddy bear. It is the most huggable and adorable companion weather you're having a good or a bad time in your life. And having one somewhere nearby helps you to make that time better and brighter. It's almost like having someone special friend who is always there to support you." Ranbir waits, though what his fiancée Katrina Kaif has to say about such cuddlesome activities is not known at this point.
We leave you to your festivities with these chaste thoughts.