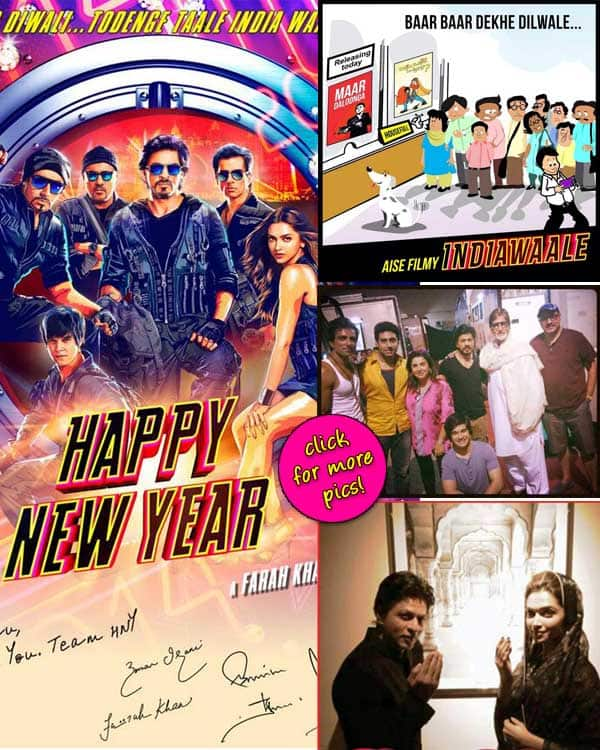 skip advertisement
Teaser-HNY-Center-1-130814
The star cast and crew of the film have used the Twitter handle to promote the upcoming venture in a unique way. Read on to know more….
Farah Khan is one director who goes beyond the normal conventions and puts forth unique and innovative mediums to promote her ventures.
We are well aware of the director's extravagant promotions during the time of Om Shanti Om which was pitted against Sonam Kapoor and Ranbir Kapoor's Saawariya. This time around the mother of three has used the Twitter handle to make people aware of her upcoming film Happy New Year starring Shah Rukh Khan, Deepika Padukone, Abhishek Bachchan, Boman Irani, and Vivaan Shah. We give you a detailed account on how the Happy New Year team have made their presence felt big time:
Phata Poster, nikla Shah Rukh Khan
The team of the film has released posters which showcases each cast member in a snazzy presentation. This idea has worked well for them as usually where film posters are seen having the entire cast in one frame, individual attention given to each star here is a trend which has been brought forth for the first time.
One is never too old for Cartoons
It is a myth that cartoons work well only with the kiddos out there. The Happy New Year team has come up with Cartoon caricatures which celebrate the essence of India under the slug called "Indiawaale." The presentations showcase one liners which highlight the puns of the Indian culture like " Bas Dil Ki Sunnewale, aise hain hum Indiawaale" or " Gaadi Ki Bhi Aarti Nikale" itne senti hain Indiawale". A slug which brings forth the sentiment of patriotism, now that is a clever move indeed!
Behind the scenes
People love to watch their favourite celebs in candid moments and this need has been fulfilled by the Happy New Year team whole heartedly. On their official page on Twitter, one can see the star cast in their of-screen avatar during the hectic shooting hours, be it a happy smiling pose by them or Farah Khan receiving a big tight hug from Boman Irani.
The Trailer, is just a Whatsapp away
Now this one is a first, no doubt. Where one is used to catching trailers of the upcoming films on social media websites or YouTube, the Happy New Year team has gone a step ahead and entered the wordwide networking app, Whatsapp! Here's what you do, you give a missed call or drop in a Whatsapp message on the designated number and get the trailer on your mobile! Now who would have thought of that eh?
Take a look at these pics and get an idea of the creativity put in by the highly anticipated film's team. Also, stay tuned for the trailer of Happy New Year right here on BollywoodLife!