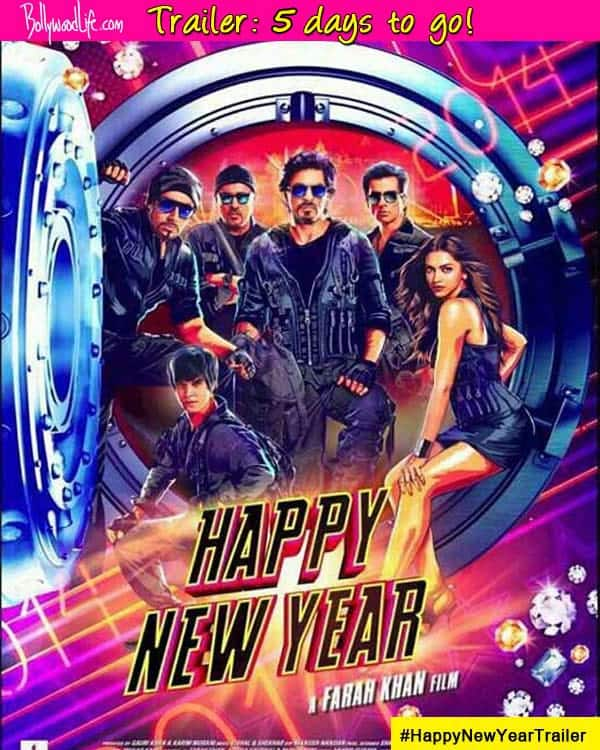 5 days to go for the Happy New Year trailer launch…
Farah Khan's Happy New Year has been in the making for the most part of this year. Starring Shah Rukh Khan, Deepika Padukone, Abhishek Bachchan, Sonu Sood, Boman Irani and Vivaan Shah, this film has created a huge buzz since a long time. The much awaited trailer is set to release five days from now, on August 14. And here are the five films on robbery that one of the main characters Abhishek Bachchan has been a part of:
Dhoom: Abhishek along with Uday Chopra as ACP Jai Dixit and his side kick Ali solve crimes. The two take on a series but daring John Abraham who steals and leave no traces behind. The movie became very famous because of the super fast bikes.
Dhoom 2: Abhishek and Uday reprized their characters from the first installment of the film. YRF turned this film into a franchise and in this part the duo take on Mr A, played by Hrithik Roshan. The movie became very famous because of the slick  robberies done by HR.
Dhoom 3: Abhishek and Uday are no longer in India and they are called to the US for solving a case. The case has them solve a mystery behind 3 bank robberies done by a clown, played by Aamir Khan. The movie became the highest grossing Indian film ever.
Game: Abhishek along with a gang of other robbers go down to a secluded island and are given tasks of comminting some robberies as they were considered the best robbers in the world. The movie had Ab Junior portray an angry young man just like his father Amitabh.
Players: Abhishek along with Bobby Deol, Neil Nitin Mukesh, Sonam Kapoor and Bipasha Basu need to rob a train full of gold. The movie was a remake of a Hollywood film Italian Job.