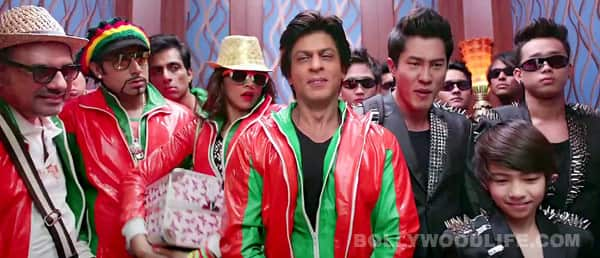 The Om Shanti Om team is back and how….
Shah Rukh Khan and Deepika Padukone reunite for Farah Khan heist drama Happy New Year and joining this awesome threesome are Abhishek Bachchan, Boman Irani, Sonu Sood and Vivaan Shah. And with the first official trailer of the film out, we can vouch that this a trademark Farah Khan entertainer. And here's are five reasons why you shouldn't miss SRK's latest film promo…
King Khan back with buddy: The last time Farah worked with her favourite Khan was almost seven years back and they together delivered a blockbuster. This one too is not short of a hit, at least that's what we think. With the seven year itch in their relationship a thing of past, we're sure that these buddies will bring back their fun chemistry off screen on it too.
Deepika's lucky accent: The last time she mouthed 'boakwaas dictionary' dialogue in Chennai Express, the word and her accent became such a fad, that even the Dabangg Salman Khan couldn't get enough of this leggy lass. Sallu got Dippy to mouth these lines over and over again at an awards night he was hosting. We're sure that Ms Padukone's new accent will soon become a rage and we will have other Khans asking this babe to do it again and again on stage.
Abhishek Bachchan's new avatar: Jr B has managed to surprise us by standing tall amidst some of the biggest stars and actors from the industry. The various looks that he has donned in this movie might just surpass his last hit Bol Bachchan, for which the Bachchan lad might just be taking home some new trophies. After the film's release of course!
No Honey Effect: It's Vishal Shekhar all the way. While Yo Yo Honey Singh stole the show last time around with his Lungi dance number for Rohit Shetty's film starring King Khan. Looks like Farah and Shah Rukh have decided to keep their friends happy this time around. And we are expecting nothing less from this musical duo. A fun, high energy and foot tapping music album is what we are looking forward to, a glimpse of which is already available in this trailer.
Sonu Sood in Dabangg avatar: It's not often that you see a spoof of Sallu miyaan, but Farah Khan has managed to pull off one, without offending her other Khan friend. So, Sonu Sood's ripped shirt, chiseled features and perfect abs will definitely remind you of SRK's arch rival Salman Khan. But, just like Dabangg even here Sonu manages to hold his fort. Be it delivering desi dialogues or then rugged avatar both will impress you.
Apart from this, there is Boman Irani the real stud in the star cast. Don't believe us then take a look at the Happy New Year trailer here!