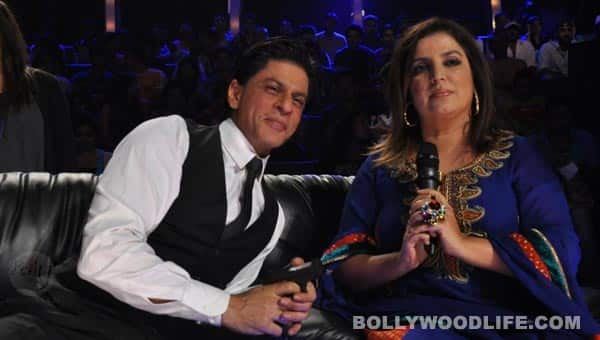 We stumbled upon the premise of the former frenemies' ambitious project. And it sounds like the typical Farah Khan entertainer!
Director-choreographer Farah Khan's Happy New Year will bear her signature style of an ostentatious story filled with loads of dhamaal, drama and dancing. And our 007-like spy tells us that this time the newbie actor will bring to the fore the world of dancers through the dramatic plot.
"Happy New Year apparently involves a bunch of male friends – each one is a bad dancer – who have been thrown into a tight spot to participate in and win a dancing world championship," says our jasoos. As you know Shahrukh Khan, Boman Irani, Abhishek Bachchan and John Abraham are supposed to play these four buddies.
Now what could the heroine do in this kind of male-bonding naach-gaana based film? Our super-snoop says, "She is a dancer in a downmarket bar in one of the far flung Mumbai suburbs. She helps the men win the competition." We also told you that Sonakshi Sinha and Parineeti Chopra are in the running for the bar dancer's role. Who will nab this one? May the better dancer win!
If what we have found out about the story and cast is true, we think Happy New Year will be a riot to watch, mainly for the four actors – who in real life too are not exactly famous for their dancing skills – getting jiggy onscreen.