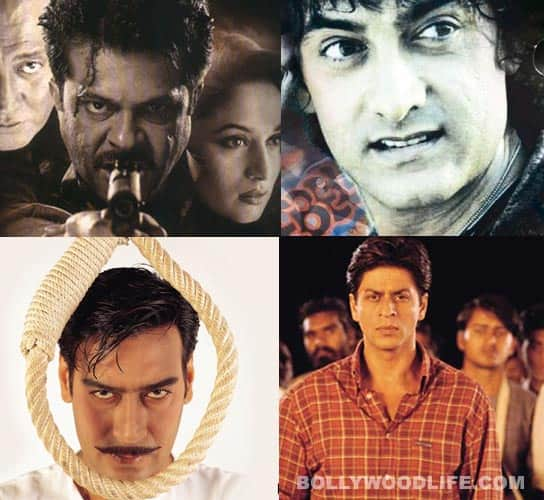 As we celebrate India adopting the Constitution, we take a look at Hindi dialogues and songs discussing patriotism, albeit in the Queen's language. If only the Queen knew….
It's Republic Day! And if you are one of those who has taken advantage of the long weekend to visit a non-Hindi speaking hill station, you just might find yourself in a fix. So while everyone shares the sentiment of R-Day, you just might find yourself meeting confused faces when you express your joy with Bollywood songs and dialogues. Here's a handy guide to help you:
Movie: Upkar
Mere desh ki dharti sona ugle/ ugle heere moti, mere desh ki dharti
The land of my country grows gold/ Grows diamonds and pearls, the land of my country
Movie: Sikandar-e-Azam
Jahan daal daal par sone ki chidiya karti hai basera/ Woh Bharat desh hai mera
Where on every tree branch, golden birds perch /That is my country India
Movie: Leader
Apni azaadi ko hum hargiz mita sakte nahin / Sar kata sakte hain lekin sar jhuka sakte nahin
We can never end our freedom, we can get our heads cut but we will never bow our heads
Movie: Pukar
Yeh Veer Shivaji, Rana Pratap jaise bahaduron ki sarzameen hai. Jise Bhagat Singh, Azad, Ashfaqullah Khan ne apne khoon se seencha hai. Humein koi tod nahin sakta… Hum Hindustani ek hain or ek hi rahenge. Aur desh ke har ek dushman ko milkar marenge.
This is the land of brave warriors like Shivaji and Rana Pratap, which was watered by Bhagat Singh, Azad and Ashfaqullah Khan with their blood. No one can divide us. We Indians are one and we will be one. And we will unitedly fight every enemy of our nation.
Movie: Rang De Basanti
Door se commentary dena bahut aasaan hota hai. Doosron ko gaali dena aur bhi aasaan. Agar tumhein itni problem hai to tum badlo na deshko. Yeh tumhara bhi desh hai. Politics join karo, police ya IAS mein bharti hojao, badlo cheezon ko. Lekin tum nahin karoge. Main bataaon kyon? Kyon ki gharki safai mein haath gande kyun karein? Agar itni himmat hai, toh aage badho. Badlo is desh ka future.
It is very easy to comment from afar, even easier toblame others. If you have such a problem (with the state of things), then you change the country. This is your country too. Join politics, enroll yourself in the police force or in the IAS, change things. But you won't do so. Shall I saywhy? Because why should you dirty your hands while cleaning your own house? If you have so much courage, then come forward. Change the country's future.
Movie: Swades
Main nahin maanta ki hamara desh duniya ka sabse mahaan desh hai. Lekin yeh zaroor maanta hoon ki hummein kabiliyat hai, taakat hai, is desh ko mahaan banane ki… Hum aapas mein ladte rehte hain, jab hamein ladna chahiye ashiksha ke khilaaf, badhti hui aabadi, bhrashtachaar ke khilaaf. Yahan jaati ke aadhar pe bhed bhav ho rahein hain. Dalit Brahmin ko dosh deta hai, zamindar kisaan ko dosh deta hai par unka hak nahin deta. Phir hum mahaan kaise hue?
I don't believe our country is the greatest country in the world. But I definitely believe that we have the capability, the strength to make this country great… We fight amongst ourselves, when we should be fighting against illiteracy, against the increasing population, against corruption. Here people are differentiated on the basis of caste. The Dalits blame the Brahmins, the landlords blame the farmers, but don't grant them their rights. Then how can we call ourselves great?
Movie: The Legend of Bhagat Singh
Inquilab ek ladaai hai, zulm aur nainsaafi ke khilaaf. Inquilab ek hatyaar hai, aadmi ka aadmi par shoshan rokne ke liye. Inquilab ek elaan hai, desh ke naujawanon ko ekjut karne ke liye. Inquilab ek pukaar hai, soye hue aawaam ko uthane ke liye
The revolution is a fight against cruelty and injustice. The revolution is a weapon to stop man's rule over man. The revolution is a call, to unite the youth of the country. The revolution is a call, to wake up the sleeping public.
Then there is Arvind Swamy's line in Roja. When an anti-national (Pankaj Kapur) states that that talks won't end the Kashmir situation, only the formation of a separate state will, our hero states:
India piriyaadhu
India won't be divided