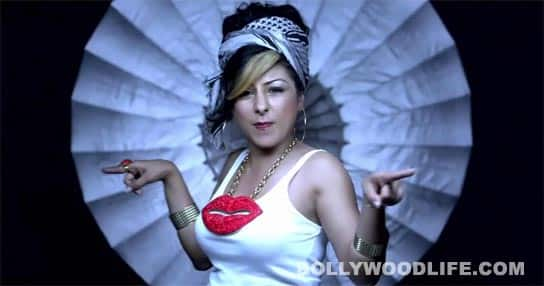 Casually dressed in a sleeveless black tee and a hip-hopper cap, rapper Hard Kaur, in high spirits as always, talks about  everything that has made her what she is today
The only female rapper who has come a long way and left her mark in Bollywood, talks about her favourite genre when it comes to music, "I like drum and bass, bhangra…. I am also a huge fan of Beyonce, but hip-hop will always remain no.1 on my list," she says.
Having experienced racism personally, she talks about the ordeal she faced over the years while living in the UK. "Now I know why parents are so scared. A lot of kids who could have been successful today are not because of this racism issue and because they are Indians," she says.
There are a lot of victims who aren't as strong and fearless as Kaur. What are people like these supposed to do? "I think until you believe in yourself, nothing is ever going to change. I don't claim to be strong. As a child, I was the kind who couldn't even say a 'no'. I've been abused very badly and have gone through the worse s***, something's that's way beyond your imagination, but I don't mind sharing any of it. I am working since the age of 13 and at times when I look at all those stupid girls who have been blessed with everything and they still don't value it, it annoys me," she says. She further adds, "I would like to say that if you have an issue, think that you are a special child."
She seems to have a lot to say to her detractors. Her confidence is infectious and the firmness with which she talks is sure to inspire a lot of women out there. "In the UK, I got the best rap artiste award, and all the guys out there were unable to believe how a girl could outperform them. I think if you cry, you make a lot of people happy out there, so one needs to be happy to make others cry. When someone is bugging you a lot, just think that they are jealous of you. I don't expect everyone out there to like my music, but there are some people who politely say that 'sorry it's not my style' whereas some just brashly declare that they don't like it," she says.
Her mother always seems to be concerned about her marriage, but the incorrigible daughter has her own ways of dealing with this issue. "My mom has this weekly phase, one moment she whines and the next she is like, what's there in getting married? She changes her mind every day. So, I keep postponing it to 'next year' just to keep her shut," she says.
The tattoo on her arm can't go unnoticed. The fiery dragon epitomises the true image of the rapper. "I got this done when I was 16, when my friends were getting inked with their boyfriend's names with hearts and arrows; I decided to go for the dragon because I wasn't stupid like them. My latest one is on my wrist which says 'I love mummy'," she signs off.