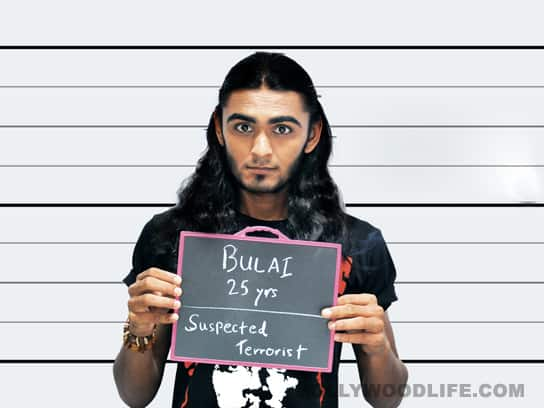 He may be a loser in the film, but has managed to win unexpected attention in Bollywood with his first film. Meet Harsh Parekh, a sound engineer-turned-actor, who debuts in actor Hrishita Bhatt's first production – Shakal Pe Mat Ja. The 24-year-old talks about the unexpected acting opportunity and his experience working on the movie
What is Shakal Pe Mat Ja all about?
Shakal Me Pat Ja is about four guys – Shubh, Chitra, Prateek and Bulaai (my character). We have a lot of big dreams, but are unable to realise them. Basically, we are losers. One day we come up with a plan to terrorise everyone. What happens after that is, we fall into our own trap and get caught as suspected terrorists. Then follows the madness to get out of it.
The plot sounds similar to Tere Bin Laden…
Yes, we have a strong resemblance to Tere Bin Laden because of the genre. The film has a message in the end. That's the only thing we are saying, but it's totally different from TBL. In fact, Shubh (the director) in real life was shooting for a documentary – of an American airline plane at Delhi international airport. He got caught as a suspect and was interrogated for hours. This was sometime in 2003 or 2004. And he elaborated the whole event into Shakal Pe Mat Ja.
How did you bag the role?
I play a wannabe rockstar in the film. I think because of my unconventional looks, Shubh felt I suited the role. I did a have a rock band and toured the country before I got into sound engineering and have worked on the sound for Kaminey, Ishqiya, Chance Pe Dance, Raajneeti, Love Sex Dhoka, Rann and others. That's how Shubh knows me. Two years later, after he locked the script, he gave me a call saying that he wants me in it.
What preparations did you go through for your part?
I learnt guitar from Kala Mandir and that's where I had done theatre. That's where I got my acting keeda also. So right from childhood I never had any stage fright or a fear of facing the camera. On the first two days of the shoot I was a little nervous, but then it was pretty easy. We did a lot of rehearsals with my co-stars and read the character sketch of Bulaai over and over again. Also, I did get to experience being a suspected terrorist while shooting for this film. The day the Opera House blast happened, we were shooting in Andheri. I was supposed to be in a burkha for that scene. I got an important call while shooting, so I took a break and stepped out of the studio. I was wearing a burkha with sports shoes and speaking in my normal tune. I didn't realise it would panic people because it was so strange. I finished my call, turned around to go back to the studio and I saw policemen standing just behind me. They interrogated me for half an hour and only after my producers told them I was an actor did they believe me. What they said sends shivers down my spine even today: "If you (Harsh) had run, we would have shot you"; they had to orders to do so. That's when I understood the seriousness of the situation. On a lighter note, my character is a nervous wreck, so bites his nails in the film, and now I am having great difficulty stopping doing that!
What happens next – sound engineering or acting?
I was quite happy where I was professionally. I was handling the entire sound department at Vidhu Vinod Chopra's office and that's when I got Shakal Pe Mat Ja. I always wanted to act, but I was sceptical if I could pull it off. But now that I managed it, and the response I have been getting is good, I am not letting it go. I have got so many calls from people from advertising and films, so I will focus and divert my energy to bagging more projects.
What about the long hair?
I have this unconventional look right now, so if I get another film which requires me to keep my length, I don't mind keeping it. But if there is something substantial where I am required to get rid of my current hairstyle, then I don't mind cutting it. I can grow my hair again, but not let opportunities go!