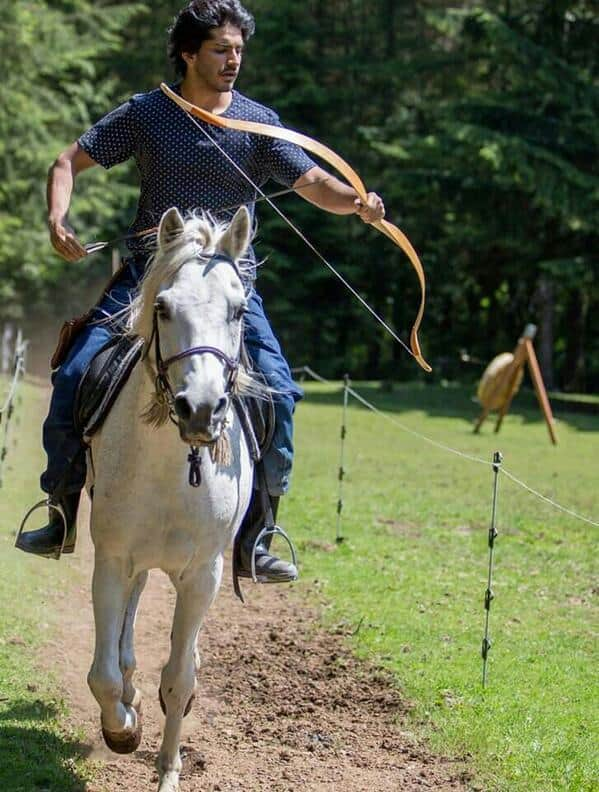 skip advertisement
Sonam Kapoor's brother is evidently training hard for his debut film…
If you think Sonam Kapoor is hot, wait till you see her bro! Where Sonam epitomizes the term stylish, Harshvardhan on the other hand is a bang on graphic representation of the words "Prince Charming."It's no longer only in fairy tales folks, cuz' Harshvardhan's revealed avatar has hit B-town and proves that this Kapoor lad is here to stay.
With the wind blowing his wavy locks and him carrying a bow in his left hand and drawing an arrow with the other, Harshvardhan looks every bit a Kapoor raja in the making, training fiercely to get his stint right in his upcoming debut Mirza Sahibaan and rule Bollywood. Donning a blue t-shirt and jeans, topped with black boots, and him riding that elegant white horse against the green backdrop, it's safe to say that Sonam Kapoor's sibling with his hunky looks, will emerge as the new heartthrob of Bollywood in no time.
Celebrities are often in news for their makeovers and looks like Harshvardhan is ready to make some headlines too. Being the fashionista's brother, it must be hard to stay at par with her sis's sense of style and not be overshadowed by it. Well, the good news Harshvardhan has carved his own niche in the fashion world like Sonam, and has transformed from the boy next door to a naughty neighbour. With this picture and a few others from his photoshoots, it is certain that this new Kapoor on the block will give the enthusiastic critics no reason to complain and will make Papa Anil proud.
Mirza Sahibaan directed by Rakeysh Omprakash Mehra, is said to be an epic love saga which will be Harshvardhan's debut film. Speaking of debuts, Sonam Kapoor's cousin Mohit Marwah is all set to make his debut with Fugly as well. Will we see a Kapoor sibling rivalry in the market soon? We can't deny that it will be fun to watch!