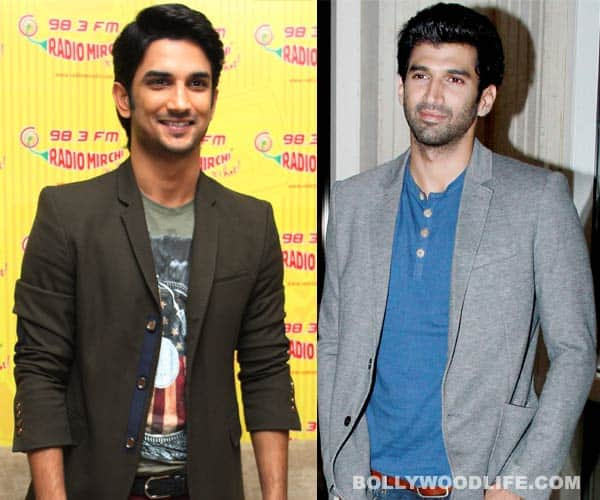 We hear that the Aashiqui 2 actor will replace the Shuddh Desi Romance. Read on to know why
It is now confirmed that Sushant Singh Rajput has opted out of Abhishek Kapoor's Fitoor. A source close to the newbie hints that he was politely elbowed out of the film. That a situation was created where he had no option but to leave the film, "It is almost as if they didn't want him to do the film so they kept postponing it till his dates clashed with another film and he was left with no option but to back off."
When asked the reason behind wanting Sushant out, the insider says, "Fitoor is being produced by UTV and they now want Aditya Roy Kapur to do the film. They also produced Abhishek Kapoor's last film so the director was not in the best position to negotiate." Continues the insider, "When Sushant was signed for Fitoor, the film was being produced by Balaji and was to start this month. Then the film changed hands and came to UTV. Sushant was waiting for it to start, then in August Abhishek told Sushant that the script was undergoing some changes and they wouldn't start shooting in October. When Sushant asked when they would start, he was told: Next year but we can't confirm exactly when."
In the meantime, Sushant signed Shekhar Kapur's Paani and Yash Raj Films' Byomkesh Bakshy!. He was then told that his dates were needed for July 2014. But Sushant had already committed dates for Paani in July.
Adds the source, "Last week, Sushant met Abhishek and requested him to shift the shooting dates of Fitoor to October next year but the director said that they couldn't do that. Because his dates had to match those of the leading lady Katrina Kaif, who has given the green signal for July 2014. Now it is being made to look like Sushant has ditched Gattu for Paani but it isn't like that.
Aditya was waiting in the wings to step into Sushant's Fitoor role. An announcement is expected to come from UTV in the next week. It's all very hush-hush right now as they are waiting for Katrina's nod to Aditya which shouldn't be a problem as he already has the super hit Aashiqui 2 tucked under his belt.
A source associated with Fitoor says, "That Aditya is the younger brother of CEO of UTV Motion Pictures, Siddharth Roy Kapur, could simply be a coincidence. The fact remains that Aditya is hugely popular and he gets films on his own merit. Siddharth is not the kind of a guy to use his position and power to push his family. If that were the case, he would have done it before when Aditya was sitting as home for four years. And not now when he is a star in his own right. This could just be a business decision. There is no conspiracy theory."