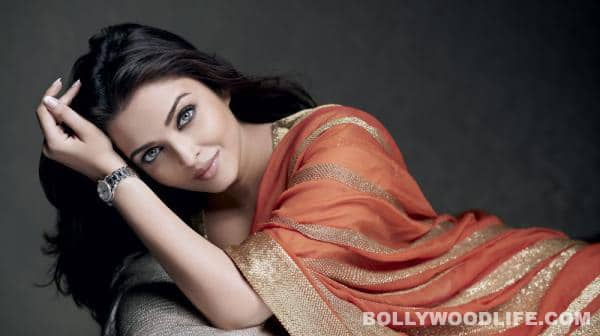 The actor is seen posing in a gorgeous sari in the new Longines ad. Promoting the all-new Saint-Imier collection 2012, Ash is looking nothing less than radiant and ravishing in the stunning poster
Aishwarya Rai Bachchan is ruling the roost when it comes to endorsing classy brands . And what's astonishing is that she is considered to be a reliable face to represent those brands, despite not having a single film on her work roster. Unfortunately, there's one more flaw which ideally should make the creative honchos shun her from promoting their products – and that's her increased weight. But looks like Ash has done something right (in her career and in her past life) to win the implicit trust of brand-makers. She has not just been amazingly focused, but also made sure she looks great neck up, even though her body has resisted going through the turmoil of heavy duty exercise – but hey, has she lost some weight over the past couple of months, Photoshop notwithstanding?
She seems to enjoy lording it over the established Bollywood ladies. And now, as she is effortlessly putting her stamp on big-fat-money-minting-brands, we wonder how she's doing it all. One of her strategies is, we think, to choose her brands very carefully. From being Goodwill Ambassador with the United Nations  to representing Kalyan Jewellers, Ash is not just making mature decisions, but also opting for products and endorsements that complement her age and her subtle yet classy style.
Now that Ash is playing her cards right with her amazingly deft hands, we are glad the former Miss World has very smartly created a space for herself in the advertisement arena. And since she's ageing gracefully, we think that's one more reason for her fans and high-end brands to be even more impressed by the beautiful lady…