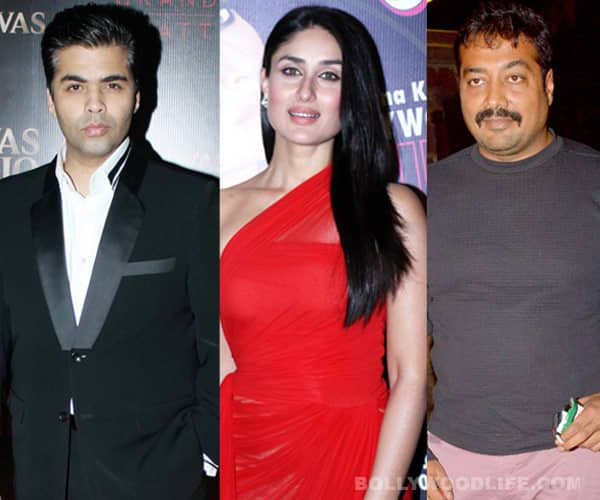 Bebo and Kashyap haven't worked together so far and neither do they have common friends. But looks like, dosti is brewing between these two. At least from Kareena's side…
Anurag Kashyap recently graced Karan Johar's celebrity chat show Koffee with Karan 4 along with his Bombay Velvet heroine Anushka Sharma. And while playing the controversial rapid fire round, the talented filmmaker uttered some pearls of wisdom for Kareena Kapoor Khan. Kashyap said before signing any project Bebo should ask what the film is all about instead of who is in the film. Ouch! Now that must have hurt the Talaash starlet, no? Especially coz we know the Gangs of Wasseypur director didn't say it in the friendliest way. And knowing Kareena, who never takes potshots lying down; we were expecting a todu jawaab in return. But strangely that didn't happen.
On the flipside, Saif Ali Khan's begum said in an interview, "Anurag is absolutely right and I should pay heed to this, my sister Karisma and husband Saif follow this norm but I am the kind who does a movie driven by impulse. But hereafter I will focus on the story, and I wish this advice had come from a friend than someone who does not know me too well, but am glad I found a friend without having to seek one."
Looks like KKK doesn't want to rub any filmmaker the wrong as her filmi career isn't really going anywhere. Maybe that's the reason why the Gori Tere Pyaar Mein actor chose to be politically correct this time around. Smart move, missy! But at the same time we wonder if Kareena is pointing fingers at her jigri dost KJo for not giving her the same advice. Remember Saifu's wifey had confessed on KWK how Johar played an important role in shaping her Bollywood career. That's not all – she even revealed that most of the projects which she turned down were coz of her good friend and KWK host.
So has one more friendship in Bollywood gone kaput? Are Anurag Kashyap and Kareena the new BFF in the tinsel town? Will Karan-Kareena never work together? Most importantly – If Deepika Padukone has replaced Kareena as Johar's favourite heroine; has AK replaced the Bombay Velvet baddie as Bebo's bestie? Everything is possible in love, war and Bollywood so can't rule out any of the above assumptions. Can we?