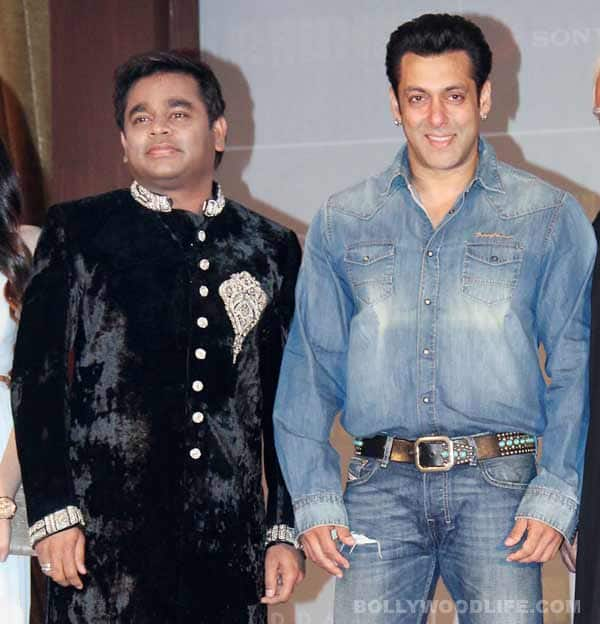 At a recent event, Sallu miyaan shocked everyone by calling Rahman an 'average' music composer. Though the Dabangg Khan later clarified on Twitter that he was just joking, we know the superstar doesn't get cheeky without any reason
Looks like Shahrukh Khan is no longer Salman Khan's jaani dushman. We don't mean it literally but for now someone else seems to be the Jai Ho actor's arch rival. We all know about Salman's not-so-flattering comment about musical genius AR Rahman. At the launch of Rahman and Kapil Sibal's music album Raunaq, the Kick star called the Mozart of Madras 'average'. While many were puzzled with his out of the blue remark, not many are aware of the fact that SK shares not-so-great rapport with the Highway music director. And that's the reason why he took a jibe at Rahman. We hear Sallu had approached the talented music composer for his film Ek Tha Tiger and later even accepted the offer. However, AR Rahman backed off the project at the last minute leaving director Kabir Khan in a fix. That's not all! Apparently, Kabir repeatedly requested Rahman to complete the songs but his efforts failed. On the flip side, the music maestro asked the makers of Salman starrer to shoot the songs on a demo and told them we would finish the music later. When SK learnt about the same, he thought Oscar winner composer was being unprofessional. Since then, the two have been sharing not-so-friendly vibes.
Also, not so long ago, Rahman's legal team had sent a notice to Salman and his brother Sohail Khan for using the title Jai Ho which has been trademarked by the former. Now doesn't that explain why the Bhai was being catty? It sure does…
Well, SK and AR Rahman may not be best of friends but commenting on latter's work was totally uncalled for. After all, Rahman is nothing less than national treasure, right? While Khan clarified about his remark on Twitter, we wonder if this cold war has ended or just begun. Coz Salman can forget but does not forgive.