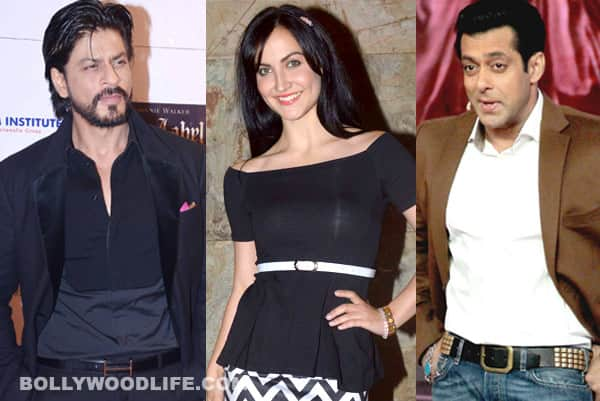 There are some shifts in loyalties are happening outside the Bigg Boss house too, an ex-contestant who seemed like an ardent Dabangg fan claims to be Shahrukh Khan's fan
Elli Avram was all coy and smiles every time she interacted with host Salman Khan while she was on Bigg Boss 7.  And Sallu's fondness for Elli was also very evident right from the opening episode. Elli went all out to impress the Dabangg star. From crooning romantic numbers from Sallu's hit films to performing to hit item song from Dabangg 2, she left no stone unturned to impress Sallu – from improving her culinary skills to learning Hindi. Going by the antics of these two, we were sure that Elli will soon bag a role opposite Salman in a movie. But that didn't happen thanks to the Sallu's choc-a-bloc schedule.
Change to the scene outside the house, Elli was basking in Sallu's light for the longest time. Guess the Mickey Virus heroine realised that there was no project coming her way. And guess what, there was an immediate shift in loyalties. Why do we say so, you ask? That's because the Swedish beauty has listed Shahrukh Khan as her favourite and and even went on to name 2002 film Devdas as her favourite. "I like 'Devdas' the most because the love that is shown in the movie is so deep and beautiful, it is amazing. I have a crush on that movie," said Elli during an event in Delhi.
After failing to be the next Katrina Kaif in Salman's life is Elli aiming to take Deepika Padukone's place as a heroine in Shahrukh's films? Looks like it, hai na?