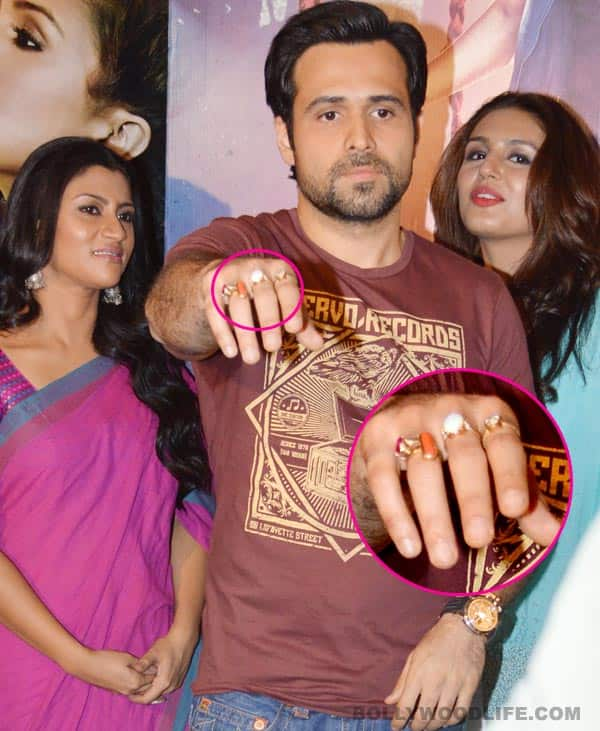 We spotted the Ek Thi Daayan actor wearing many rings at an event recently. Has the Hashmi boy taken a cue from the film's producer Ekta Kapoor?
As if her obsession with the letter K was not enough Ekta Kapoor has seemingly warned Emraan Hashmi, the leading actor of her new production Ek Thi Daayan, to take care of celestial arrangements that could possibly work wonders for her movie.
We spotted Emraan recently at a promotional event of his dark drama. And what caught our immediate attention at the do was the number of rings the serial kisser was sporting on his hands. So conspicuous were the different stones in the media glare that the sight had journos murmuring about Hashmi's 'superstitious streak'.
But why on earth does Emmi need a stroke of luck or assistance from the heavenly planets? After all, the 34-year-old kissie boy has become the toast of B-town after his remarkable performances in films like Once Upon A time in Mumbaai, The Dirty Picture and Shanghai, kissing or no kissing. Hashmi has really come into his own; he's getting better at his craft and, honestly speaking, we are amazed to see the lad's choice of films too. What then are those rings for, Emraan? To ward off bad omens, perhaps…or even a witch or four? We wonder!
And then came that much needed explanation from our filmi think tank. Don't forget that Vishal Bhardwaj is co-producing Emraan's Ek Thi Daayan. The intelligent director is known for making path-breaking films. But so off-the-beaten track was his last endeavour Matru Ki Bijlee Ka Mandola that it sunk without a trace at the box office. Hashmi perhaps is no mood to repeat Vishal's not so glorious recent history and is keeping nazar faaaaar away from this one. The evil eye that converted Vishal's Matru Ki..into the disaster-o-rama that it was needs to be kept miles away from Ekta's latest. Right, Emraan?
What do you think?