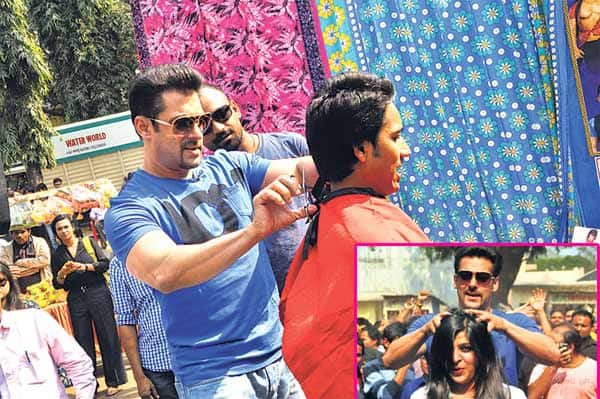 The Ek Tha Tiger star seems to have taken the less-than-happy response to his latest film to heart…
It's no news that Jai Ho has not done very well at the box office. It has surely crossed the 100 crore mark – all thanks to Salman Khan's star status – but it has earned way less than what was expected. Forget breaking records set by other films like Chennai Express, Krrish 3 or Dhoom:3; Jai Ho didn't even manage to break Salman's previous films' records (Bodyguard, Dabangg 2, Ek Tha Tiger). Anyway, failure is just a stepping stone to success and shouldn't be taken too seriously, no? But it seems, Salman does not believe in doing that and has decided to change professions and become a barber. Shocking, hai na?
Now before you begin to collapse because of high blood pressure, read further. Your favourite Dabangg dude has not changed professions for life. Everyone is aware of Salman's love for charity. The Bodyguard actor not only kicks off humanitarian events frequently, but also supports endeavours initiated by others. The Ready actor shot for an episode of Mission Sapne, an upcoming reality show based on charity. The format of the show is: A celebrity leaves his regular profession and takes up a common man's small job for a day. Thereby, the money earned by the celebrity is multiplied by a certain number and then donated to the person in need.
Why was Varun Dhawan selling vegetables?
A source said to a leading daily, "For his episode, Salman took on the role of a barber. He extended support to Qurban Ali, a barber who lost both his legs. Although handicapped, he strives to return to his normal life and provide for his family. While Salman gave haircuts to men under Qurban's guidance, he offered a champi (head massage) to women as he wasn't sure about giving them haircuts." Mission Sapne would be hosted by Sonali Bendre and has prominent celebs on every show.
After Varun Dhawan, Ronit Roy sells cosmetics for Mission Sapne
Many celebs have already shot for their episodes prior to Salman. Varun Dhawan turned vegetable vendor, Ram Kapoor became taxiwala, Ronit Roy sold cosmetics, Harbhajan Singh became halwaii, Mika Singh took to becoming a chaiwala and now, Salman has become a naai (barber).
Mission Sapne: Harbhajan Singh sells namkeen!
This new format of reality television seems to be very interesting and we hope it works. After all such initiatives could help needy people who have been victims of fate. Hai na BollywoodLifers?