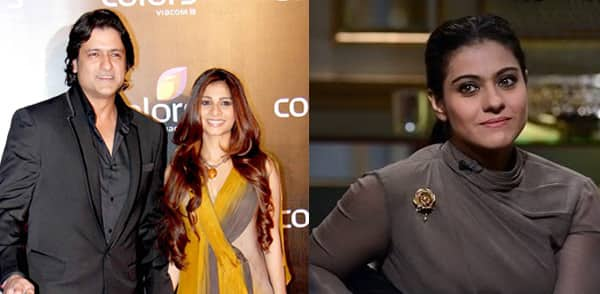 Just as thought that all the drama in Armaan-Tanishaa relationship has finally come to an end, looks like we were wrong
Tanishaa Mukherji and Armaan Kohli fell in love during their stint in Bigg Boss 7. But the two never really confessed about their love when the show was running. However ever since the two walked out of the glass walled house, they had no qualms wearing their hearts on their sleeves and have been spotted hand in hand at various occasions. Moreover, rumour has it that the couple have took their affair De Coeur to another level by exchanging the rings.
But it looks like Tanishaa's sister and actor Kajol is not ready to approve Armaan as her brother-in-law. Yes, the Fanaa actor recently made an appearance at Karan Johar's popular chat show Koffee with Karan, where she was asked by the Kuch Kuch Hota Hai director to spill some beans on Tanishaa's stint in the high voltage reality show. Honestly, we weren't expecting KJo to ask her best friend something as controversial as this, but to our surprise, he did. And we like that. Anyway, even Kajol was not hesitant to talk about as she went on to reveal how her entire family was reluctant to send their little princess in the house of horrors. And then came the ultimate question by Mr Johar – Are you read to welcome Armaan Kohli to your family? "That we'll see… We'll leave that conversation for another day," is what Karan got from his bestie. Ah, well.
If you will remember, initially Tanishaa's mother Tanuja had also shown her dissent to this relationship. And it was quite evident through Armaan's warm approach towards the veteran actor and her cold reaction to Mr Kohli on Bigg Boss 7 Grand Finale. However, it looks like Tanishaa somehow managed to convince her mother given that Tanuja celebrated the New Year's Eve with her daughter and her hone waala damaad at their farm house in Lonavala. In fact, Tanuja even accompanied the couple when they made a trip to Vaishno Devi quite recently.
So if the rumours are true that Tanishaa and Armaan are engaged secretly, we wonder if it has happened with Kajol's consent. Well, all we could do is continue to play the guessing game, hai na?
Here is a small video where you can see Kajol talk about Tanishaa. Watch it and tell us your thoughts about it.