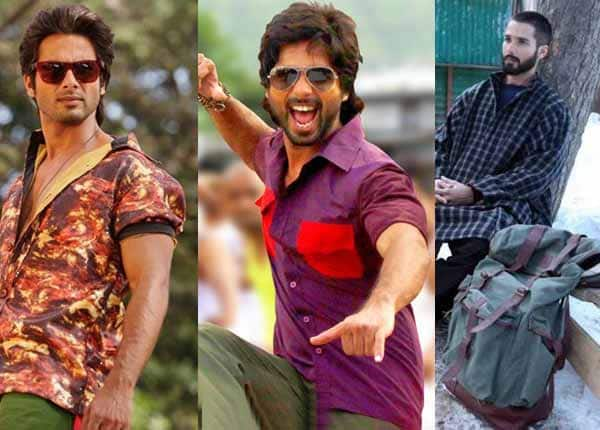 skip advertisement
When Shahid Kapoor broke on the Bollywood scene with his boyish persona, we thought he would never age. But now that he is on the wrong side of 30's, Sasha has actually grown into this rugged, mature and macho hunk with a sharp jaw line and sexy facial fuzz. He is even styling himself as per his changing and ever-evolving mature personality. Tell us if you like the birthday boy's transformation from an impish charmer to the killer machismo!
Vishal Bhardwaj's Kaminey was a definite game changer for Shahid Kapoor's's career. The lad was portrayed-for the first time ever- as this rugged dude who was ready take on the odds with his chin up. Known for his impish charm that is so typical of a college-goer, Shahid has now successfully matured into the man who could punch villains and romance his heroines with equal élan. And going by the style the man has adopted with the image he has portrayed on celluloid though his cinematic endevours, one can safely say that Sasha has consciously worked on his sartorial sense too.
He looked lean, sculpted and sharp in Phata Poaster Nikhla Hero. His comfy shirts and vibrant tees accentuated his toned chest muscles (the man also flaunted his killer cleavage to draw some loud cheers from his fans, we know!) be it the use of colours or the accessories he used in the movie, Sasha made sure that he has moved a step further from his chirpy college days (cinematically, that is)
and then we saw his flaunting a scruffy beard with thick moustache that went well with his messy hair in Prabhu Dheva's R…Rajkumar. Here too the Kapoor lad added that mastiwala mawali tadka to his attire. He played with hues, designs and garish outfits well without going outlandish. Be it his tight white pants, black vests, red bandana and yellow T-shirt, the 33-year-old knew how to keep the affair loud without making it look ultra-clownish.
And now we are looking forward to see his next Haider, a Vishal Bhardwaj endevour. The zero cut hairdo and that bearded look make the chocolate hero look intense, stern and mysterious. The sober coloured cheqeured shirts and the grey woolies suggest that Sasha will roll in new trends in terms of 'take-me-seriously' dress code.
Take a look at this picture gallery and let us know your take on our hero's evolving style statement. Do you think Shahid has transformed into a mature thing to lust after?