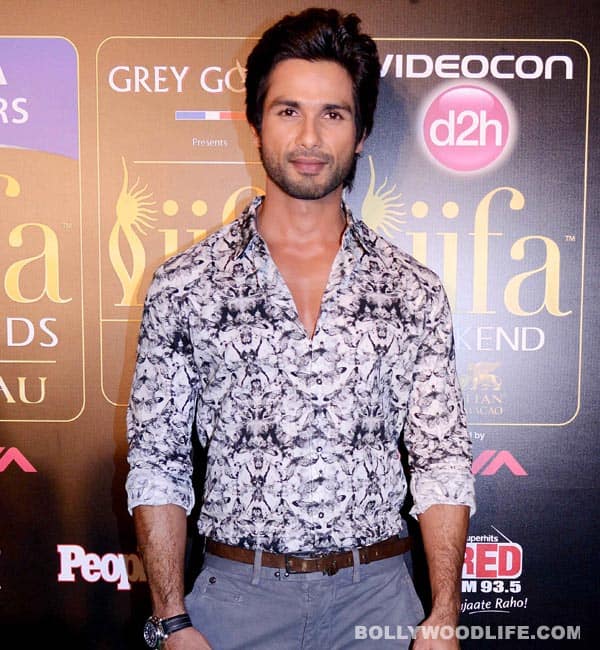 Sasha is one actor who has been linked with almost all his female co-stars. But surprisingly, there have been no rumours about him being romantically involved with his R…Rajkumar heroine Sonakshi Sinha. While the Kapoor lad says it all coz of Ms Sinha, wethinks that's not really the case….
Good-looking, talented and the nation's heartthrob – that is Shahid Kapoor in a nutshell…err…we mean he was, when he entered Bollywood with Ishq Vishq ten years ago in 2003. He made a promising debut, was tagged the 'next big thing' and obviously girls drooled over him. In fact, the young actor was linked with almost every other co-star he had. From Vidya Balan to Priyanka Chopra and even Nargis Fakhri, who only did an item song with him in Phata Poster Nikla Hero. Whenever his films were ready to release, the media went buzzing about him being romantically involved with his leading lady. But that's passé, it seems. These days we hardly hear anything about the Kaminey actor or his romantic entanglements. With R…Rajkumar all set to hit the theatres, it's surprising that there have been no rumours – not even a teeny tine little baby one – about anything beyond a work commonality between Shahid and his co-star Sonakshi Sinha. We feel kinda sad for Pankaj Kapur's ladla beta, coz that I-am-not-dating-material feeling ain't good, hai na? Especially when you were considered the most desirable bachelor in B-town at one stage!
We don't quite agree with SK's opinion. He says that his co-star has been instrumental in keeping any such tall tales of pyaar-vyaar at bay. Wethinks that it's not coz of Sona that there have been no link-up rumours, but more that maybe Shahid is no longer in the race to be B-town's hottest eligible single. He has in fact even said on a talk show – or four – that he is single and would love to find that special girl – no, papa Pankaj is not on a bride hunt, he assures us. His new 'heck, I'm solo!' status could be coz of his not-so-bright future, his habit of rubbing people the wrong way with his attitude or….c'mon, at 32 and with all those muscles, he doesn't qualify to be called 'cute' any more, no? And we all know that dating a B-town beauty isn't a cakewalk; their kharchas are more than their nakhras! So being an actor, your…err… money is only as good as your work and the blockbusters you are part of. So that solves the mystery…or does it?
PS: Shahid, all you need is a hit film or two and we know you'll be back in the race…for top hero, of course – what did you think we meant? Till then, be happy at being link-up free. Giggle.