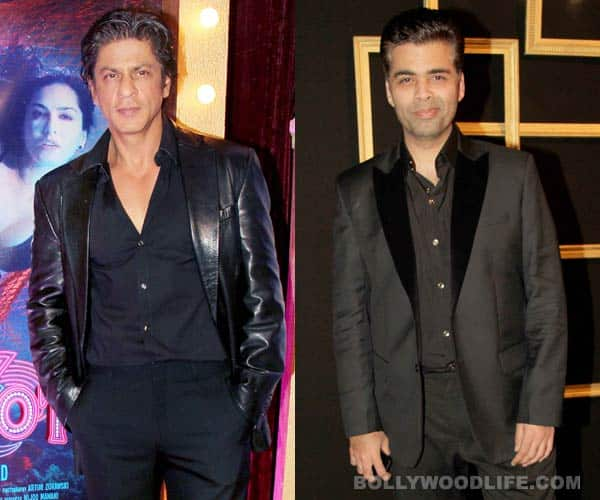 Not so long ago the My Name is Khan actor-director were best buddies of Bollywood
Shahrukh Khan and Karan Johar's friendship has hit a rocky patch. Why do we say so? We are not implying this because KJo chose Salman Khan over SRK for the opening episode of his hit chat show Koffee With Karan 4. Considering Sallu's popularity, we thought Karan had made a calculated decision to have him as the season opener of KWK 4. However, some of the recent events have left us wondering if all's well between the once best friends.
Karan has obviously gone ahead to share a warm friendship with Salman and his jigri dost's competition Aamir Khan. We all know, unlike the Jai Ho star, Shahrukh doesn't share a great friendship with Aamir. In fact the few occasions where the Satyamev Jayate 2 host and Happy New Year actor have come together, they have been strictly amicable and extremely formal. While you will find Aamir and Sallu singing praises for each other and promoting each other's films, its not the same with Shahrukh and the other two Khans. Both AK and SK have often taken digs at the King Khan and he has aptly responded to his rivals. And with Karan partying with Aamir and wanting to make films with Salman, he must have certainly irked Shahrukh. That's not it not so long ago Karan was miffed with Shahrukh's growing proximity with his Don heroine Priyanka Chopra.
We even heard that King Khan was giving his friend a tough time allocating a date for KWK 4 shoot, while Karan has told that his Kuch Kuch Hota Hai hero will definitely be on the couch to share some coffee and indulge in candid conversation. With hush-hush talks about Johar roping in his favourite Khan to replace Hrithik Roshan in Shuddhi, we thought that all was well in this friendship. Lekin, like all good films, there's a twist in this kahaani too.
Apparently Shahrukh's wit has rubbed his chaddi-buddy the wrong way. At a recent event the actor took digs at Punit Malhotra's Gori Tere Pyar Mein, which was produced under Johar's Dharma banner. The Kareena Kapoor Khan starrer filmmaker said he wished he had the power to be invisible, Shahrukh's response, "After Gori Tere Pyaar Mein, you should be invisible." While we thought that SRK was stating the obvious, it seems his friend didn't find humour in these lines and is sulking.
With the duo not sharing warm vibes, will the recent incident just be the end of their once atoot rishtaa?