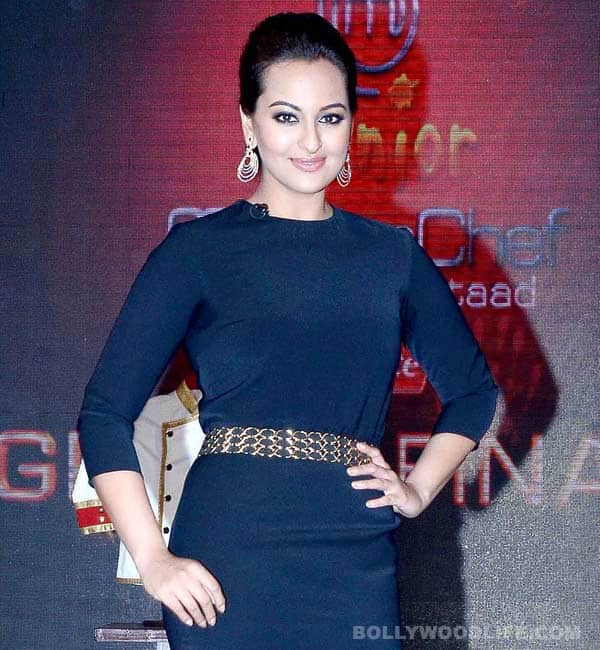 If you have been watching the R…Rajkumar heroine closely, you will see that her skirts and shorter and she is actually kissing her hero, Shahid Kapoor!
Yeah, we know, Sonakshi Sinha has always said that she can be sexy even fully clad and keeping her distance from her men onscreen. And we agree that she has done it…so far. Even dressed from top to toe in ghagra-cholis or sarees, Shatrughan Sinha's baby girl looks all-out sexy, desi ishtyle, with her generous curves and those gorgeous eyes. Didn't one sideways look from her kohl-lined peepers manage to steal Salman Khan's dil in Dabangg? And didn't Rowdy Rathore Akshay Kumar go Dhadhang dhang dhang with every muscle when she swayed her luscious hips in the song? Not to mention Lootera Ranveer Singh deciding that he would Sawaar loon when she smiled gently at him during a painting lesson.
But along her way on the fast track to stardom Sona has insisted time and again that she will not break two very personal rules – she will not get into kissing or lovemaking scenes that stretch her boundaries of comfort and she will not wear skimpy clothes that embarrass her or her family (read: upset her father, Shotgun Sinha). All very well and we agree, especially because this gal does not have the figure for itty-bitty outfits and would tower over her heroes if she had to get into too close a clinch. However, we cannot help remarking that her rules are becoming a little more elastic than she had intended, wethinks. Did you see what she was wearing in the Party song from Boss? A form fitting shimmery black dress that showed off a great deal of her rather well-upholstered legs. She wriggled and shimmied happily with Akshay and a group of semi-clad dancers, bottles waved in the air, drunken jigs jigged and much else going on. And in the new song from her latest movie – R…Rajkumar with Shahid Kapoor – where they sing Saree ke fall sa, she kisses her hero over and over again. Sadly, we cannot get that much mileage from that one, since the kissing is chastely on the cheek and the vibe between the two pretty people could not be more sisterly-brotherly!