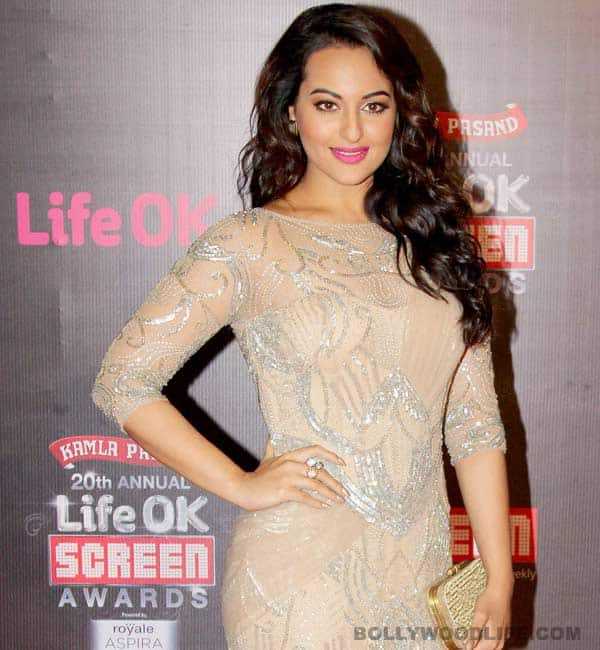 In our opinion, YES! In the past couple of weeks, the Lootera lady has become more outspoken, lost weight and acquired a new stylist…we like!
A couple of months ago we met Sonakshi Sinha during the promotions of R…Rajkumar. She was friendly at first, but then realised that BollywoodLife as the news and gossip website that was writing all those nasty things about her, and refused to talk to our reporter, Prathamesh Jadhav, even though her co-star Shahid Kapoor went all out to be friendly. It turned out that she was very offended by our nominating her for the Best Auntyji of the Year in our BollywoodLife Awards list. Ironically, she won the title based on votes sent in by our readers…but that is another story. Her weight, her dress sense and her diplomacy were too safe, too stodgy and too blah for anything more positive, frankly speaking.
But we have now decided that Sonakshi needs to return that trophy. She no longer deserves it. Her much-vaunted tact went out the window when she expressed her feelings about Lootera not being nominated for awards. And her style…the last two times we have seen her, we have been stunned speechless. What has the gal done to herself! It is a transformation, wethinks, and a fabulously successful one. We give credit where it is due, always, and this actor deserves all the applause we can muster up. The kilos have melted away, credited to either a very rigorous and diligent gym routine or control innerwear, we will not debate, but they have gone. At the 20th Annual Life OK Screen Awards a couple of days ago she was gorgeous in a silver and nude Amit GT gown, her hair in loose curls, her lips a vivid pink. Wow! And at the Renault Star Guild Awards held last night, Sona showed off every inch of flab she had lost in a black U-necked Rachel Roy jumpsuit; there were a few fit issues we could point out, if we could locate a voice. She grabbed us by our style metres and stole our collective breath away! The star looked amazingly good in the slinky outfit, 'I-want' earrings and classy make-up. And hey, she beat the usual gaggle of fashionistas in the style stakes by a million miles!
One thing though – if Sonakshi keeps this up, we need to find new contenders for our Auntyji title for 2014. Vidya Balan, Aishwarya Rai Bachchan, anyone else…are you listening?