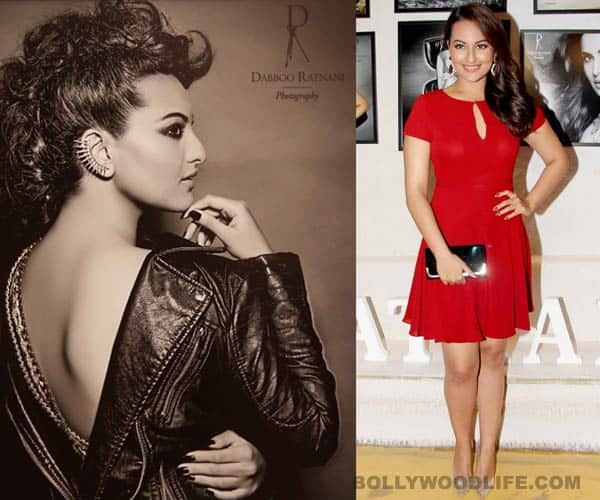 skip advertisement
Wethinks that the Dabangg actor is back in the sexy groove…. and how!
Sonakshi Sinha has finally managed to wow us her with her style statement. We always thought that the desi gal was a fab actor, but her fashion sense struck us as being a wee bit too…err…auntyji, hai na? If you remember, she even won the
BollywoodLife Award for that – and refused to talk to us after she found herself in the category in our nominations list. But right now, right here, we have to say something, loud and clear – Sonakshi Sinha can be chic and sexy when she wants to – and she was when we saw her last! The latest Dabboo Ratnani calendar for 2014 has Sona in a Gothic avatar posing for a photo that is superhot in its composition and its subject. In a leather jacket, dark-painted nails, funky earcuffs and a dashing hairdo, Ms Sinha's grace, attitude and undoubted beauty makes the image edgy and gorgeous!
And then, just when we were ready to credit that to makeup and computer manipulation, we saw the Lootera lady at the calendar launch event. She wore a little red DvF flared-skirted dress with a keyhole neck. Sona looked surprisingly svelte, obviously having worked out to lose oodles of weight. And believe you us, the gal stood out in her new avatar, quite toned and glowing. If this is the brand new Shotgun Jr, we sure approve – we were totally awestruck, in fact!
Sona completed her stylish look with metallic pumps, a black clutch and statement earrings. The side-swept hair added elegance and showed off those beautiful eyes. This time the Dabangg star got it bang on with the cut and the colour choice of her frock, still staying as modest as she tends to prefer. Not so long ago, we spotted Katrina Kaif in a very similar little dress – but in pink and far shorter – that made her look like a Barbie doll and caused an awkward moment as she sat on a high stool on stage, Sona looked picture perfect in her red dress, poised and pretty, with no likelihood of any oops moments.
This reassures us that Sonakshi is not the auntyji she was voted as – and after this appearance, we wait to see more of the gal's style statements – hopefully fun, edge, young and age-appropriate and chic – in the coming days…. you agree, BollywoodLifers?