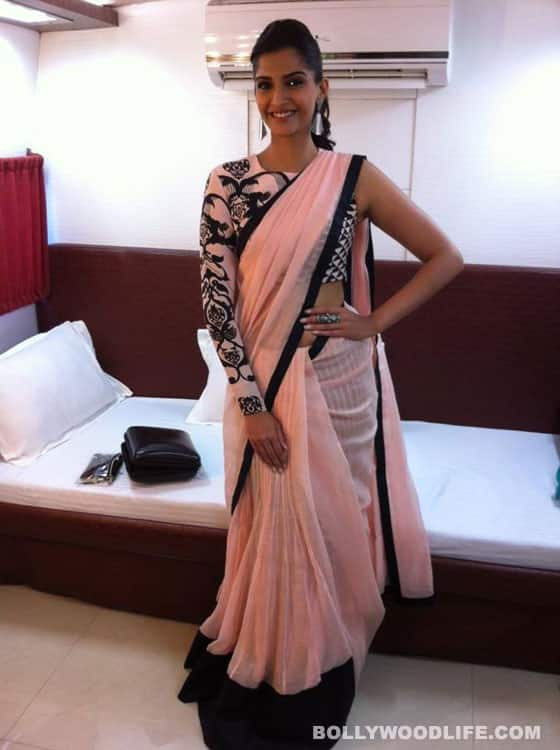 The Raanjhanaa babe is always fashion forward; she chose to wear a lehenga saree to make a stylish appearance on a popular chat show recently. But one look at this outfit and you wonder what in heck she was thinking when she got dressed….
Sonam Kapoor's sartorial sense is often too eclectic for an ordinary person to understand. The 28-year-old is known to be ahead of pack where trends are concerned and she is known for setting benchmarks in Bollywood when it comes styling her look oh-so-perfectly. But this time around, in her zest to be dramatically different Sonam forgot to take a good look at herself in the mirror before appearing on Anupama Chopra's popular chat show The Front Row.
Sonam chose a designer garment – we are really not sure what we should call the composite outfit – by Payal Singhal that makes her look like a clown who got her geometry and aesthetic senses absolutely mixed up.
The heavily ornate one-sleeved blouse worn with a blush mull kalidar lehenga saree makes Sonam like a desperate babe who is trying to be hatke. She looks decidedly eccentric rather than fabulously fashion forward and gave us a generous dose of the giggles. The broad dark border and the dull colour of the saree makes the style diva look like a stylish nurse transported to a red carpet event making a furious effort to be chic!
Sonam darling, you don't really let us down with your wardrobe, because we like the shock value of your choices, no matter what they are. But this time around you made our discerning eyeballs bulge for all the wrong reasons!