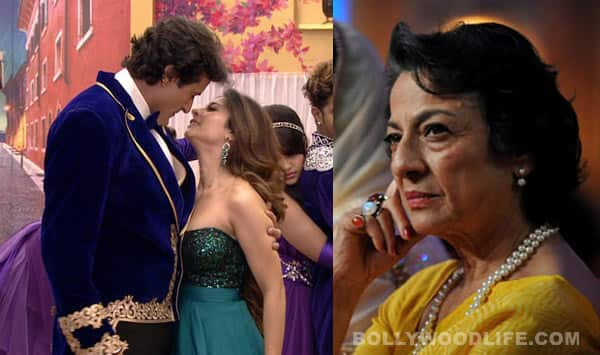 Looking at recent developments, it seems that the lady has given her nod to her beti's rishta with the man she bonded with in the Bigg Boss 7 house…
The proximity of Armaan Kohli to Tanishaa Mukherji in Bigg Boss 7 became the talk of the nation. The two were often seen hugging, kissing and cuddling with each other while they were in the house. We heard that this closeness irked Tanishaa's mother Tanuja and elder sister Kajol. And that was quite evident at the Bigg Boss 7 Grand Finale, when Tanuja made her disapproval obvious with her facial expressions while Armaan talked about Tanishaa to the audience. There were vibes between mother and daughter that made it obvious that something was wrong.
But now it looks like Tanuja has accepted the relationship. Why do we say so? Well, speculations were rife about who Tanishaa would bring in her New Year with – her family or Armaan. And Tanishaa played a safe game. On the the last day of 2013, Tanishaa was with her family at their Lonavala farmhouse, but on the first day of 2014 she, along with her fellow Bigg Boss housemate and friend VJ Andy, planned a house party for their mothers at Lonavala. And guess what? Also present at the party was Armaan Kohli. Yes, you heard us right!
We hear that Tanishaa's mum played the good host, putting to rest all the rumours of her being miffed with Tanishaa and Armaan's closeness in the glass walled house. "It was an impulsive decision to drive off to Lonavala. Tanuja had prepared mutton. Chicken dhansak, caramel custard, and plum cake in brandy sauce were also on the menu," a friend of Armaan told a leading daily. Tanishaa also confirmed the news, "We had a super time. It was great that Armaan could join us."
Now this makes us wonder if Tanuja has accepted her daughter's new relationship with the failed actor…oh, we forgot, Tanishaa's acting career took her nowhere too, rememeber! What do you think Tanuja will do next, peeps?