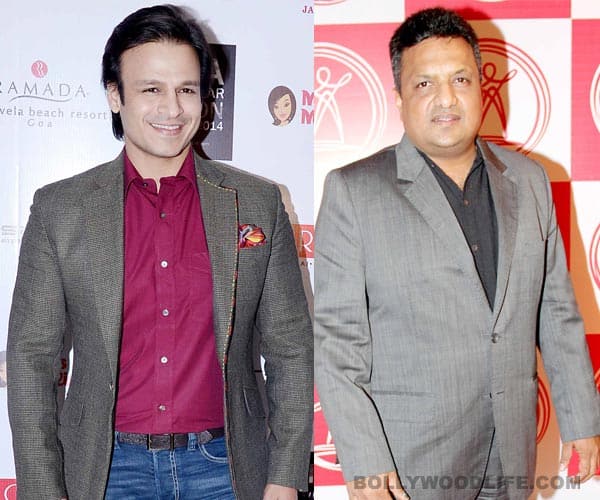 It seems the two are finally acting like grown ups
It's no secret that Vivek Oberoi and Sanjay Gupta have been at loggerheads, since the time Vivek backed out of Shootout At Wadala after signing on the dotted line. The director openly made fun of Vivek's acting skills when he said, "Vivek Oberoi is a joke which is not even funny anymore but his ridiculous statements make me laugh. I think he is the Prince of Ghaziabad who will get his KLPD." One thing led to another, and both were seen giving each other cold shoulders and even chillier stares. But it seems the storm has passed now, and the two are back to being buddies again.
A little birdie informed us that the two came face to face during the star studded wedding of Kumar Mangat's daughter Amita Pathak's wedding. They hugged each other and spent over an hour talking and clearing the misunderstandings. A leading daily informed, "Neither of the two knew that the other would be present. But when the two met, they spoke for almost an hour. There is no bad blood between the two anymore."
After Shahrukh Khan, Salman Khan hugs long time foe Vivek Oberoi
The Grand Masti star informed the same leading daily, "We've let bygones be bygones." He also added that he would definitely want to work with the filmmaker again. Gupta also returned the warm vibes when he told the daily, "At heart, both Vivek and I are kids and that's why we behaved like school boys when we fought. But now, we've realised we have become fathers and it's time to grow up. In our business, fallouts are temporary and that's perhaps a nice thing. Life is too short to hold long grudges. All is forgiven and forgotten." That is very well said, Sanjay.
On a lighter note, this year seems to be the year of forgiveness. First Shahrukh Khan hugged Salman Khan on the stage of an award function. Then in the same function, Salman forgave long time foe Vivek Oberoi by giving him a warm hug. And now Vivek has passed on the hug to Sanjay Gupta. Awww… Too much bhaichara, wethinks. After all, what's Bollywood without some tadka, no?