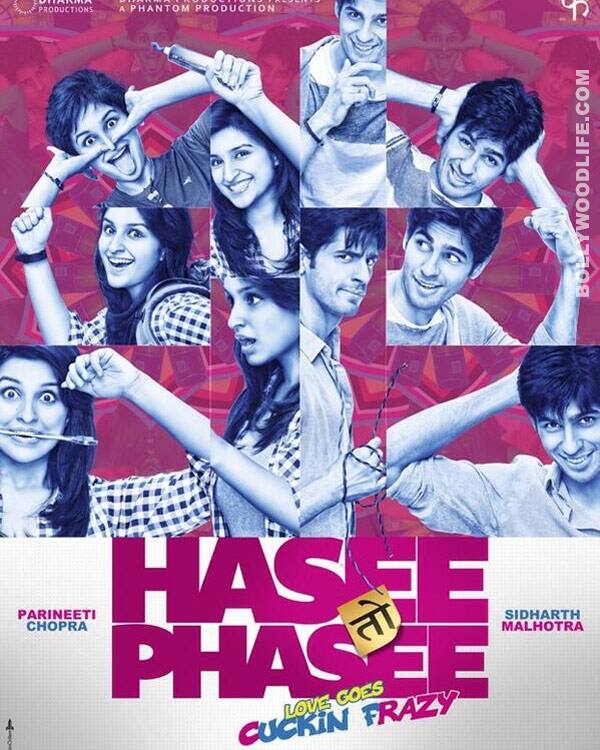 Music: Vishal-Shekhar
Singers: Sunidhi Chauhan, Benny Dayal, Shreya Ghoshal, Shafqat Amanat Ali, Nupur Pant, Chinmayi Sripaada, Shekhar Ravjiani, Sanam Puri, Shipra Goyal, Vishal Dadlani
Lyrics: Amitabh Bhattacharya and Kumaar
Karan Johar and Anurag Kashyap's Hasee Toh Phasee directed by Vinil Matthew has a fresh pairing in Sidharth Malhotra and Parineeti Chopra. And the music directors too have come up with a refreshing and impressive album for this one. With a total of six tracks, the film has a perfect blend of foot tapping dance numbers and romantic ballads. We are relieved that the music directors have returned in full form after their last not so impressive offering, Gori Tere Pyaar Mein.
The album begins with Punjabi wedding song sung by the versatile Sunidhi Chauhan, Benny Dayal and Vishal Dadlani. Infused with traditional dhol and Hinglish lyrics, it is sure to become a staple in the wedding season. The shaadiwala number is a full-on masti song that describes the events at a Punjabi wedding. After listening to it more than once, it had tones of Radha from Student Of The Year, which was also by the music director duo.
Shake it like Shammi, the second upbeat track from the album begins with drum beats and has a very retro feel. After Badtameez dil last year, Benny Dayal delivers another rock n roll style groovy song that has infectious energy. Listen to it and you will agree with us!
Drama queen by Vishal Dadlani and Shreya Ghoshal will surely become one of the favourite party numbers this season. With fun lyrics like 'Adaaein bade funky, kare hai nautanki, ye chori badi drama queen hai', the song caught our attention with its upbeat music and the mood of the video. Though this not one of Shreya's best, Vishal's energy levels make it a quintessential club number.
Manchala is a situational love ballad sung by Shafqat Amanat Ali and newbie Nupur Pant. The song transports you to a different zone where you actually start visualising the characters of the film discovering love. Though it isn't an extraordinary track, you will love listening to it when you are driving alone.
Zehanaseeb is undoubtedly one of the best numbers on this album. Crooned by Chinmayi Sripaada and Shekhar Ravjiani, this soothing song is a perfect love ballad. As you listen to it over and over again, it grows on to you. The guitar and the lyrics where the characters are expressing their feelings for each other work magically for this track.
Ishq Bulava – the last number on this album is another soulful rendition by Sanam Puri and Shipra Goyal. The number begins with a simple piano riff and the melody takes over, wafting along with the beautiful Punjabi lyrics. Overall, the song is light and easy on the ears.
The music of Hasee Toh Phasee may not be spectacularly original, but it is worth a listen-to!
Rating:
out of 5
Reviewed by Purva Khole
* Poor
** Average
*** Good
**** Very good
***** Excellent