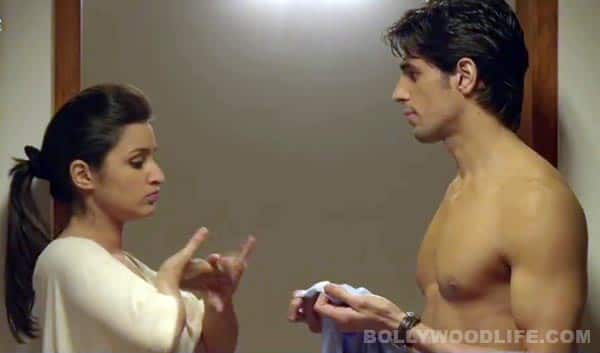 What happens when you are in love and yet are unable to acknowledge it? Go ahead, listen to this song and you might see yourself in the shoes of the lead couple
Sidharth Malhotra, Parineeti Chopra and Karan Johar keep saying that Hasee Toh Phasee is not a typical romcom, but this song makes you think otherwise! Manchala is a song which you would find in any romcom – don't get us wrong when we say this – there is nothing wrong with the song. The fact that we have heard such a romantic song in every Bollywood movie makes us feel that this song is very repetitive.
Sidharth Malhotra: Parineeti Chopra needs to lose some weight!
Manchala is a situational romantic ballad about two people discovering love. The song is sung by Shafqat Amanat Ali and newbie Nupur Pant, whose voices transport you to a different zone altogether. After a certain point, you actually start visualising the characters of the film and put yourself in their shoes.
Parineeti Chopra: I am overweight, but not as much as Sonakshi Sinha!
The video shows that the two are slowly falling in love, but deny in the beginning and eventually, come the moments of realisation. Very generic, no?
Hasee Toh Phasee music review: Vishal-Shekhar start 2014 on a fresh note!
Amitabh Bhattacharya's lyrics are beautiful as usual, and complement Vishal-Shekar's composition suitably. Though there isn't anything extraordinary about this track, you will still love listening to it when you are driving to somewhere, all alone.