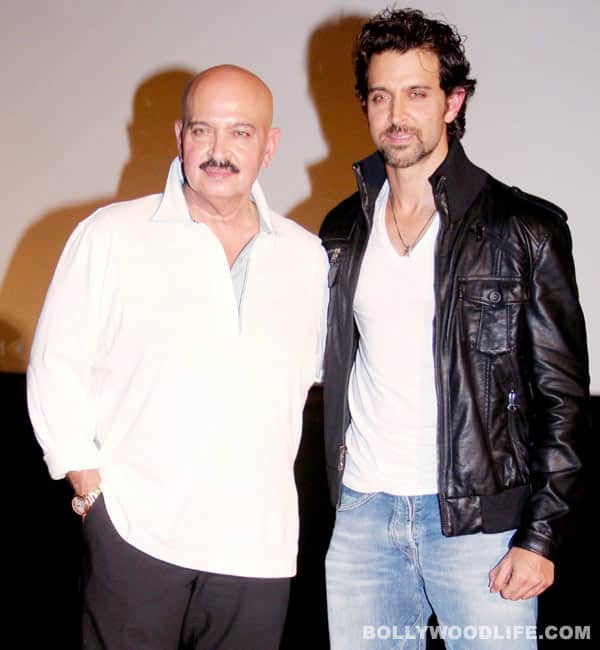 The father-son duo is back with their new sci-fi film Krrish 3. It is touted as the most anticipated – and expensive – film of the year. But after watching the trailer and the released songs, wethinks the Roshans have gone off track this time around. Here's why…
There is no doubt about the fact that Hrithik Roshan's new superhero avatar in Krrish 3 looks stellar. But besides that, there is hardly anything to look forward to in the film, not from what we have seen, at least. While papa Rakesh Roshan has reportedly spent a whopping Rs 200 cr on the VFX alone at the Red Chillies studios in Mumbai, the results aren't too convincing, especially in the part when Kangna Ranaut makes an entry. Her character looks obviously computer generated – and that, you certainly don't expect from a superhero film aimed at blowing your mind with its visual effects, right? Also, whatever you see in the trailer ain't so great, not enough to make your jaw drop, sadly. We have seen it all in Hollywood films umpteen times over. Besides that, while music played a big role in Koi Mil Gaya's success, in this case it seems to be the other way around. The songs don't seem situational – that's fine up to an extent, since Bollywood movies are obsessed with naach gaana, never mind if they are needed in a movie or not. But overall the music of Krrish 3 is just so blah! Don't believe us? Listen to the songs and tell us what you think….
While Shahrukh Khan's Ra.One failed to make its mark as a slick superhero flick, the music and visual effects of the film did grab attention. But in Krrish 3's case, these two elements seem to be the biggest letdowns, so far. As far as story is concerned, the trailer indicates what the film has in store – a superhero on a mission to save mankind, a villain who wants to destroy the world (and the superhero, of course) and loads of dhishoom dhishoom between the two. Nothing new really, hai na? Frankly, we don't think Hrithik and his daddy dearest should pin all their hopes on this one. Will it beat the business done by Chennai Express…we wonder!
PS: The movie has characters named Rhinoman, Antman and Cheetahwoman. Are we going back to Cartoon Network time, folks?