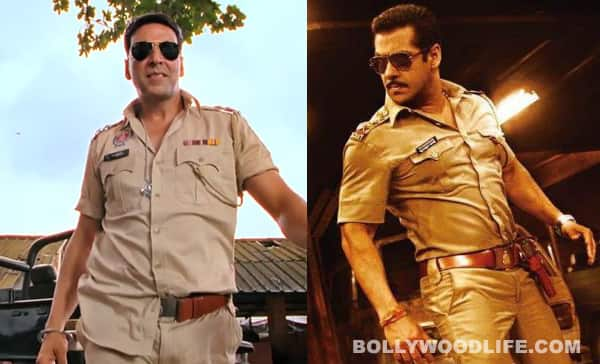 On the sets of Fugly, where the Kick actor and the Boss actor were rumoured to have fallen apart, Salman and Akshay seem to have let bygones be bygones. Read on to know how…
Salman Khan was annoyed with Akshay Kumar for hogging the limelight in an item song shot for Fugly. We even heard that Sallu bhai walked out of Akki's home production because he was fuming at not being the centre of attention. And all this even when Salman is just doing a cameo in the film! Uff! So much for being popular for doing cameos for friends, haan Salman?
Anyway, the latest scoop comes from the sets of Fugly; we now hear that Sallu and Akki have agreed on a truce. The two actors were seen having a jolly time with each other and the rest of the crew. Their camaraderie almost made us forget about the alleged issues they had with each other!
Fugly directed by Kabir Sadanand also stars the boxing champ Vijender Singh and the pretty lass Kiara Advani. Salman will be seen in a cameo and by the looks of it, seems like he and Akshay have reinstated their friendship for good.
We at Bollywoodlife hope that this friendship remains controversy-free and Fugly amazes us!