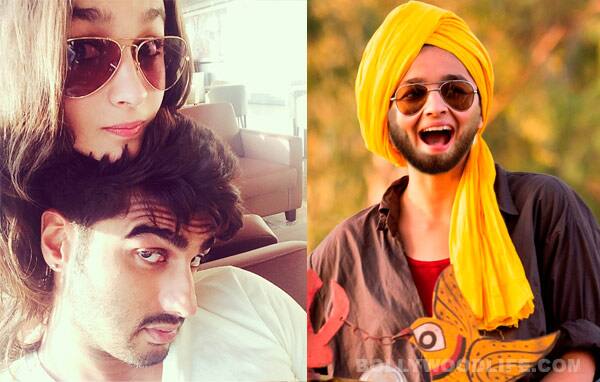 The 2 States actor seems to be enjoying herself with her co-star Arjun Kapoor. Here's another selfie from the duo
Alia Bhatt and Arjun Kapoor are busy promoting their upcoming film 2 States. But that doesn't stop them from posing for a few pics and selfies every now and then. The Highway actor recently posted pictures in which she's sharing the frame with Arjun Kapoor. The caption of one picture says, "Okay he's clearly not enjoying my selfie session!" In this shot, we get to see Alia sporting aviators while posing above Arjun's head, who looks like a grumpy cat. Anyways, the second photo that she posted was more interesting. She posted it with the caption, "Hey I have a beard ;)." In this shot, Alia's resting her head on Arjun's hair, which appears to look like her faux beard.
Well, it's a cute picture and their chemistry is all the more cute in this one. Anyways, now that Alia seems to like a bearded look, we have put a beard on one of her shots from Highway. She's dressed quite like a man in this one and she makes a good-looking Punjabi boy with the turban, no? While we like our version of Alia's bearded look more and we're sure she'll like it too; you tell us, which one do you like more?