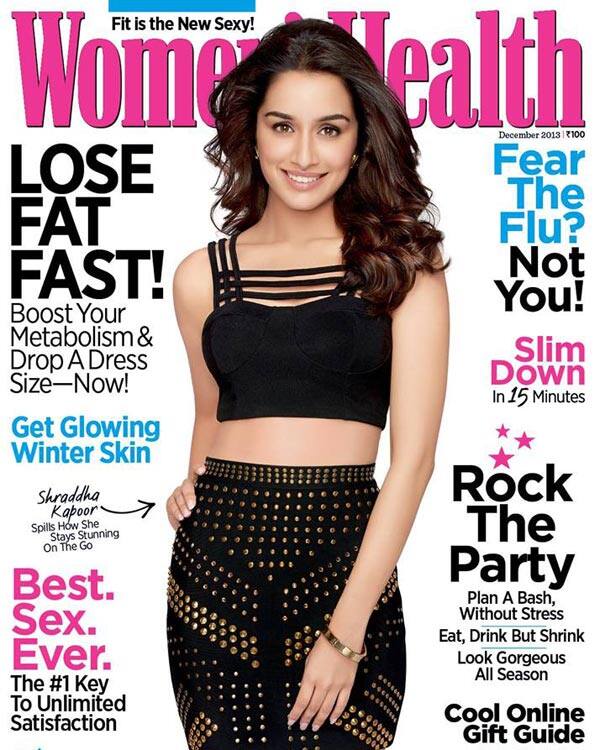 skip advertisement
The Aashiqui 2 babe has posed as the covergirl for a popular glossy. Look and tell us if you like it or not
Is Shraddha Kapoor the newest fitness freak in town? We're asking this 'coz the Kapoor lass is gracing the cover page of the December issue of Women's Health. What more, she will also be spilling the beans on how to look stunning while on the go. So, does Shraddha look fit enough to share fitness tips?
Well, that we know not but she certainly looks damn cute, as always.
On the cover, Shraddha is seen in a black bustier and a black mini, flaunting her midriff. Her slender frame looks sexy in this shot. Through the covershoot, the Aashiqui 2 actor is seen flashing her pearlies in a hot red one-shouldered dress. In the same dress teamed with a pair of black pumps, she's seen posing with her hand on a chin. Cute na? In another shot, Shraddha is seen in a body-hugging lavender dress, which flawlessly accentuates her curves. We must add that her 'tooh' looks too good in this shot! Don't you agree? In a light aqua coloured outfit, the pretty-faced babe looks radiant and her well-toned body is certainly praise-worthy. Her hairdo is simple and so is the makeup. Overall, she has maintained a very natural look throughout the photoshoot by not opting for quirky dresses, weird hairdos or out-of-the-box makeup.
One thing that we couldn't help but notice is that Shraddha is seen only in monochromes throughout the shoot and we wonder why. She's young and bold and don't you think she should experiment a lil more with her style? We wish she'd stop playing so safe. Especially with a body that makes us go green with envy, we'd love to see Shraddha in more vibrant colours. All the same, did this cute actor win your heart as a covergirl?