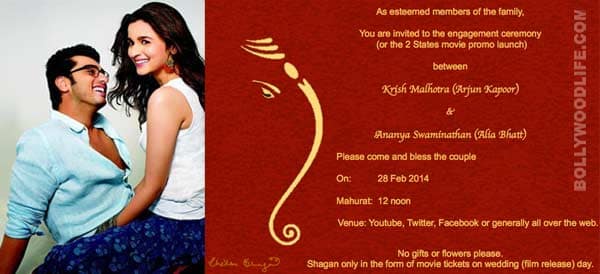 The alleged lovebirds are all set to get engaged very soon. For real?
Rumours about Alia Bhatt and Arjun Kapoor's love affair have been doing the rounds for quite sometime now. And now we hear that the alleged lovebirds will get engaged very soon. Even the Highway actor has confessed about this on Twitter. "I'm getting engageddddddd !!! ;)," the Bhatt girl tweeted.
I'm getting engageddddddd !!! 😉 pic.twitter.com/Kwa0RHVlyq

— Alia Bhatt (@aliaa08) February 26, 2014
But before you get talking about this masaaledaar gossip with your friends, let us tell you that Arjun and Alia are not getting engaged in real life. Then? Well, here is a dekho.
As you all will know, Alia and Arjun will be seen in the filmi version of Chetan Bhagat's 2 States. The poster of the film was released recently which was liked by one and all. Now, we hear that the trailer of the film will be launched this Friday (February 28) and the makers of the film have come up with something really innovative for the launch.
We came across this rather quirky invitation on Chetan Bhagat's Facebook wall which caught our eye instantly. The invite is in the form of a engagement card and Chetan wants everyone to attend the engagement ceremony (trailer launch) of Krish Malhotra (played by Arjun) and Ananya Sawminathan (essayed by Alia). And yes, Mr Bhagat doesn't want you to get any gifts and flowers because shagun is only in the form of movie tickets on the wedding ceremony (film release day). Now, that is one heck of a promotional gimmick for a film, right?
We don't know about you, but we surely found this invite really cool. Keep watching this space for the trailer of 2 States.
P.S – Did you really thought that Arjun and Alia are getting engaged, huh? Wink, wink!