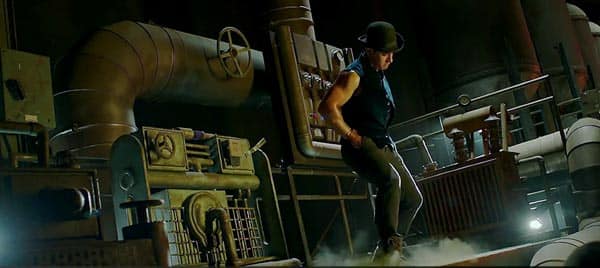 Here's Mr Perfectionist trying to put his carefully maneuvered steps forward, backwards and sideways in this special video
Lets' be honest we are not particularly impressed with Aamir Khan's glorified tap dance in Dhoom:3 but we appreciate the fact that the superstar, all of 48, took a lot of pain and also got enrolled for professional sessions to get his step rights. Trained under dancer-choreographer Dein Pery of Australia, Aamir is seen sweating it out to get his moves right for a form of dance that has its root in Ireland.
Mr Perfectionist-that Aamir is- got trained for 30 days before he was brought out on to the set to do those swift tapping moves. Using the sound of his starry boots, hitting the floor as percussive instrument, Aamir has worked hard to look convincing.
We may not be incredibly astonished by Aamir's 'booty' act, but we certainly can't deny the megastar's solid screen presence and the meticulousness with which he becomes the character he wants to portray on the big screen. Now you watch the video and tell us if the Khan dude is cool enough with his tap shoes.
[flv image="http://st1.bollywoodlife.com/wp-content/uploads/2013/12/Tap-Dance.jpg"]http://st1.bollywoodlife.com/wp-content/uploads/2013/12/Aamir-Khan-learns-the-TAP.flv[/flv]