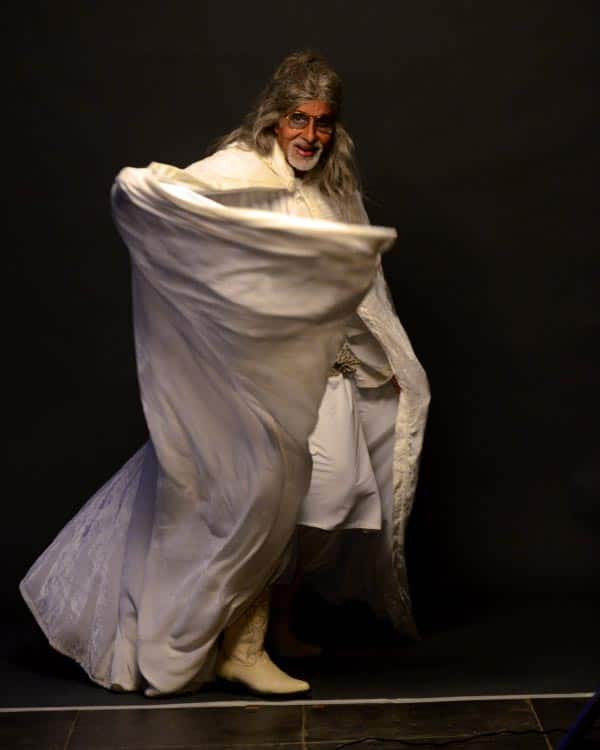 The actor took to Twitter to reveal a new avatar. And here's what we think
Amitabh Bachchan doesn't shy away from experimenting with his look. On some occasions he fails to impress but mostly, he wins our hearts. Recently, the actor took to Twitter to reveal yet another new look. He tweeted, "here is a 'ninja' in my soup .. naaah ! Just a campaign for a product." Well, we don't know which product is Big B talking about but boy, he looked so cute! We dunno how a tall and usually-sophisticated looking actor manages to pull off such looks too. Amitabh is seen in a cream-coloured outfit. It looks like he has draped a robe over a kurta teamed with a pair of white embroidered boots. But what looks different is his hairstyle. The silver shining mane and equally white beard, we like. He is also sporting a different pair of glasses in this one. He kinda reminds us of Albus Dumbledore of Harry Potter fame and partially of Gandalf too, the fictional character from Lord of the Rings.
Now we are so curious which product is Mr Bachchan campaigning for. It's like we have a desi version of angrezi fictional characters, no? We love it. And we especially love Big B's childlike enthusiasm while posing for the shutterbugs. Well, keep watching this space to know more about Amitabh's new campaign!